October 1991 saw the introduction of Macs using Motorola's high-octane 68040 CPU. The Quadra 900 was a full-fledged tower design, although it had only a single front accessible drive bay. The Quadra 700 and 900 were the first Macs with built-in ethernet, using Apple's AAUIs connector.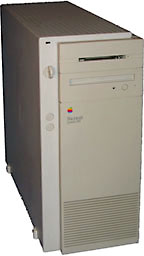 Huge. It's one of the first adjectives that comes to mind, along with monstrous, massive, and just plain big. The 303W power supply alone is about the same size as a compact Mac. The Quadra 900 is build like a tank and obviously designed to sit on the floor. With 16 SIMM slots, you can add incredible amounts of memory, along with plenty of high capacity SCSI hard drives. This is obviously designed to be used as a server.
According to Apple, the monstrous power supply can support two 25-watt NuBus cards and three of the more typical 15-watt cards.
The internal SCSI bus is terminated on the motherboard, so internal SCSI devices should not be terminated. This is the opposite of all other Macs, except for the similar Quadra 950. However, the external SCSI bus works the same as on other Macs.
Although there are two separate SCSI buses, System 7.0-7.1 "folds" them together so the operating system sees a single virtual SCSI bus. Thus, under System 7.0-7.1 (and only under those systems) you must make sure that all devices on both chains have unique IDs.
See our NuBus Video Card Guide for information on adding a video card.
The 900 was replaced by the 33 MHz Quadra 950 in May 1992.
Details
introduced 1991.10.21 at $7,200; replaced by Quadra 950 1992.05.18
requires System 7.0.1 or later; highest version supported without a PPC upgrade is Mac OS 8.1.
CPU: 25 MHz 68040
Performance: 11.9, relative to SE; 1.33, Speedometer 4; 22 MIPS
ROM: 1 MB
RAM: 4 MB, expandable to 256 MB using 80ns 30-pin SIMMs; motherboard had 4 banks of 4 SIMM slots; can use 1 MB, 4 MB, 8 MB, and 16 MB SIMMs (8 MB and 16 MB SIMMs are not supported by Apple)
video: 1 MB VRAM, expandable to 2 MB; internal video does not support 16-bit mode

512 x 384: 24-bit
640 x 480, 832 x 624: 8-bit @ 1 MB, 24-bit @ 2 MB
1152 x 870: 8-bit

L2 cache: optional
ADB: 2 ports for keyboard and mouse
serial: 2 DIN-8 RS-422 ports on back of computer
SCSI: DB-25 connector on back of computer
Hard drive: 160 or 400 MB
NuBus: 5 NuBus 90 slots
one PDS slot
size (HxWxD): 18.6″ x 8.9″ x 20.6″
Weight: 36.8 lbs.
PRAM battery: 3.6V half-AA
Gestalt ID: 20
addressing: 32-bit
upgrade path: Quadra 950, Power Mac PDS card, Power Mac 9500
Accelerators & Upgrades
Online Resources
Cautions
Outside of California, Apple discontinued support and parts orders for this model on 2001.01.01. You may be able to find dealers with parts inventory either locally or on our parts and service list.
In 24-bit video mode, the Quadra 700 and 900 actually use 32-bits per pixel. While most Macs can display 24-bit video at 640 x 480 with 1 MB of VRAM, you must have 2 MB VRAM for 24-bit on these models (see Apple Knowledge Base Archive #10992 for more details).
You must have a "fat" system installed to use a PowerPC upgrade as well as the 68040 CPU.
Keyword: #quadra900
Short link: http://goo.gl/kOOvpU
searchword: quadra900