Apple replaced the Quadra 900 with the 950, boosting CPU speed from 25 MHz to 33 MHz. Because Apple removed some "wait states" from the video section, the 950's internal video is about 20% faster than the 900's – and the faster CPU helps things along even more. The 950 can display 16-bit video on a 19″ monitor without the need for a third-party video card.
The Quadra 950 is built like a tank and obviously designed to sit on the floor. With 16 SIMM slots, you can add incredible amounts of memory, along with plenty of huge hard drives. This is obviously designed to be used as a server.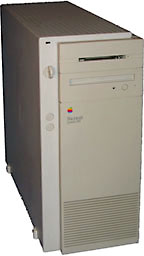 According to Apple, the monstrous power supply can support two 25-watt NuBus cards and three of the more typical 15-watt cards.
The internal SCSI bus is terminated on the motherboard, so internal SCSI devices should not be terminated. This is the opposite of all other Macs except the Quadra 900. However, the external SCSI bus works the same as on other Macs.
Although there are two separate SCSI buses, System 7.0-7.1 "folds" them together so the operating system sees a single virtual SCSI bus. Thus, under System 7.0-7.1 (and only under those systems) you must make sure that all devices on both chains have unique IDs.
The Apple Workgroup Server was a special version of the Quadra 950 designed to run A/UX, Apple's version of Unix. The only difference between the Quadra 950 and the AWS 95 is the presence of the Apple Workgroup Server PDS Card in the AWS 95. To use the AWS 95 as a standard Mac, you must remove that card.
See our NuBus Video Card Guide for information on adding a video card.
Details
Accelerators & Upgrades
Online Resources
Cautions
Keywords: #quadra950 #workgroupserver95
Short link: http://goo.gl/3Vsmt4
searchword: quadra950