This model, available in Indigo and Ruby, replaced the earlier iMac DV. Both models share a 400 MHz processor. Other than colors, the biggest difference between the new iMac DV and the previous model with the same name is the use of a CD-ROM drive instead of DVD.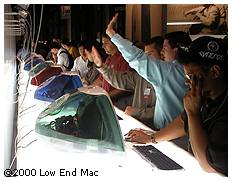 The Summer 2000 iMac DV sells for US$300 less than the previous one and ships with the Apple Pro Mouse and Apple Pro Keyboard.
Mac OS 9
Mac OS X
Non-Apple upgrades and peripherals (such as unsupported USB devices, replacement drives, and third-party memory) may cause problems when installing or booting into Mac OS X.
Be sure to read and follow Apple's "Read Before You Install" install instructions to increase the likelihood of getting OS X installed and running on the first try.
Details
Online Resources
Cautions