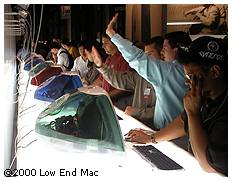 The iMac DV+, available in Indigo, Ruby, and Sage, boosts performance over iMac DV by 50 MHz. This is the only 450 MHz iMac model.
The iMac DV+ sells for the same price as the 1999 iMac DV and ships with the Apple Pro Mouse and Apple Pro Keyboard.
Mac OS 9
Mac OS X
Non-Apple upgrades and peripherals (such as unsupported USB devices, replacement drives, and third-party memory) may cause problems when installing or booting into Mac OS X.
Be sure to read and follow Apple's "Read Before You Install" install instructions to increase the likelihood of getting OS X installed and running on the first try.
Details
Online Resources
Cautions
keyword: imac450