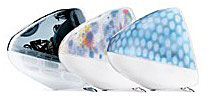 There were two different 600 MHz iMacs, one introduced in February 2001, the other in July.
The early 2001 600 MHz iMac retailed for US$1,499 and includes 128 MB of RAM (expandable to 1 GB), a 40 GB hard drive, and an 8x CD-RW drive. It uses Rage 128 Ultra graphics with 16 MB of dedicated video memory. It was available in graphite, Flower Power, and Blue Dalmatian, and it requires Mac OS 9.1 or later.
The summer 2001 600 MHz iMac had a list price of US$1,299 and came in snow and graphite. Other than that, it was pretty much the same as its predecessor.
In July 2002, Apple introduced a CD-ROM version at US$799, replacing the earlier 500 MHz CD-ROM model at the same price.
Mac OS X
Non-Apple upgrades and peripherals (such as unsupported USB devices, replacement drives, and third-party memory) may cause problems when installing or booting into Mac OS X.
Be sure to read and follow Apple's "Read Before You Install" install instructions to increase the likelihood of getting OS X installed and running on the first try.
Details
Online Resources
Cautions
keyword: imac600