Incremental improvement seems to be the name of the game for the eMac once again. The 2005 models gets a modest 14% speed boost compared with the 1.25 GHz 2004 eMac. The G4 CPU used in this model has the same 512 KB level 2 cache as the 2004 model.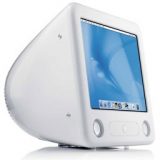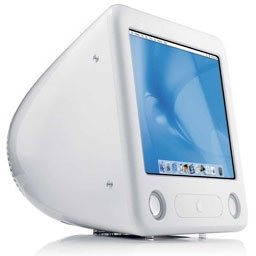 Internal Bluetooth remains a build-to-order option. Apple also switched from the Radeon 9200 graphics processor to the Radeon 9600 and increased video memory from 32 MB to 64 MB.
The SuperDrive on the 2005 eMac burns DVDs at 8x, the same speed as last year's model, but the new SuperDrive also burns dual-layer DVDs. The 2005 eMac ships with Mac OS X 10.4 Tiger.
Although it dimensions match the original iMac, the eMac is heavy- 50 pounds vs. 35-38 for the 15″ iMacs.
Details
Introduced 2005.05.03 at US$799 (Combo) and $999 (SuperDrive). Special 1.25 GHz education version available. discontinued 2005.10.12, except for education sales, with introduction of iMac G5/1.9-2.1 GHz.
Code name: Q86J
Model identifier: PowerMac6,4
Model no.: A1002
Part no.: M99832 (1.25 GHz, no optical drive, education only), M99833 (CD, education only), M99834 (1.42 GHz Combo), M9835 (SuperDrive)
Mac OS
Requires Mac OS X 10.4 Tiger
Supports OS X 10.4 Tiger and 10.5 Leopard
Core System
CPU: 1.42 GHz PowerPC 7457B
Bus: 167 MHz
RAM: 256/512 MB, expandable to 2 GB using two PC2700 DDR SDRAM (officially supported to 1 GB by Apple, and some 2005 eMacs shipped from Apple with PC3200 RAM)
L2 cache: 512 KB on-chip cache running at full CPU speed
Performance
Graphics
ATI Radeon 9600 AGP 4x chip set, supports video mirroring to SVGA or S-video with extra cost adapters (the VGA adapter also unlocks video resolutions on the internal display that are otherwise inaccessible)
VRAM: 64 MB DDR SDRAM
Resolutions: 1280 x 960, 1152 x 870, 1024 x 768, 800 x 600, and 640 x 480 using
Display: 17″ (16″ viewable) multiscan to 1280 x 960
Drives
Hard drive: 80/160 GB ATA/100 7200 rpm
Optical drive: Combo drive or SuperDrive

Combo drive reads DVDs at up to 12x speed, writes CD-R discs at up to 32x, writes CD-RW discs at up to 10x, reads CDs at up to 32x.
SuperDrive writes DVD±R discs at up to 8x speed, DVD±RW at up to 4x, reads DVDs at up to 10x, writes CD-R discs at up to 24x, writes CD-RW discs at up to 10x, reads CDs at up to 32x.
Expansion
USB: 3 USB 2.0 ports
FireWire: 2 FireWire 400 ports
Ethernet: 10/100Base-T
AirPort: accepts 802.11g AirPort Extreme WiFi card
Bluetooth: accepts optional internal Bluetooth module
Modem: built-in 56 kbps modem supports v.92 standard
Microphone: built in (above monitor), standard 3.5mm minijack, compatible with line-level input, not compatible with Apple's PlainTalk microphone
Physical
Height: 15.8 in/40.6 cm
Width: 15.8 in/40.6 cm
Depth: 17.1 in/43.3 cm
Weight: 50 lb/22.7 kg
PRAM battery: 3.6V half-AA
Power supply: 150W
Online Resources
Cautions
You cannot plug the iPod shuffle directly into the eMac's USB port – it will not fit. It will not charge if plugged into a keyboard USB port or an unpowered USB hub. To charge it while using it with your eMac, you must us a USB extension cable, powered USB hub, iPod shuffle dock, or a USB power adapter.