The 13.3″ widescreen MacBook was intended as a replacement for both the 12″ iBook G4 and the 12″ PowerBook G4, although those who appreciated the compact size of the 12″ 'Books continued to hope for MacBook with a smaller footprint.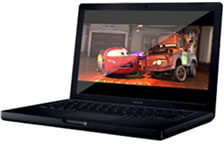 The MacBook originally shipped in white and black, and it had an unusual keyboard at the time. Although it looks like the "chiclet" keyboards found on many cheap computers in the early days of personal computing, most who spent any time working with the MacBook found it an excellent keyboard.
New to the MacBook in comparison to the 12″ models it replaced are built-in iSight, a glossy screen, and support for extended desktop mode (not officially supported with iBooks, although long a PowerBook feature). The MacBook uses the same MagSafe power connector and power supply as the MacBook Pro line.
One useful new feature is auto-unmute (for lack of a better name). If your MacBook's volume is set on mute and you plug in headphones, it immediately turns on the volume. And it mutes as soon as you unplug the headphones.
Got a MacBook, Pro, or Air? Join our MacBook Group.
Our Tiger Group is for those using Mac OS X 10.4.
Our Leopard Group is for those using Mac OS X 10.5 and 10.6.
Our Lion and Mountain Lion Forum is for those using OS X 10.7 and 10.8.
Our Mavericks Forum is for those using OS X 10.9.
There was quite a bit of controversy over the MacBook's glossy, reflective screen from the very beginning, but such screens have long been the norm in the Windows notebook realm – and Apple's implementation seems to be better than the bulk of them. Also note that the MacBook's screen displays 18-bit color, not the full 24 bits you might expect.
The MacBook initially used integrated Intel GMA 950 graphics, which offers far less performance than the ATI and Nvidia graphics found in iBooks, PowerBooks, MacBooks Pros, and all but the low-end Intel-based iMacs. 80 MB of system RAM is tied up by the GMA 950 graphics processor and unavailable to applications.
Like the other Macintel models, the MacBook shipped with Front Row and a remote control.
AirPort Extreme and Bluetooth 2.0 are standard features. Until Apple simplified the line in October 2008, the entry-level MacBook shipped with a Combo drive, while the top-end models included a SuperDrive.
Core Duo (Mid 2006)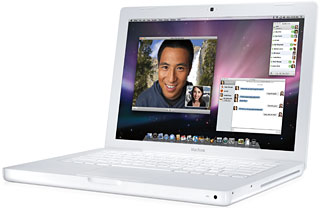 The first version of the MacBook (MacBook1,1) was built around the Intel Core Duo CPU running at 1.83 GHz or 2.0 GHz. This CPU has a 2 MB level 2 cache shared by both cores. The white models (1.83 and 2.0 GHz) shipped with 512 MB of RAM, while the 2.0 GHz black MacBook included 1 GB of RAM. Memory can be expanded to 2 GB.
Standard serial ATA (SATA) hard drives ranged from 60 GB to 80 GB. The SuperDrive on the 2.0 GHz models writes DVD±R at up to 4x.
The new model had some teething problems, particularly ones related to heat. It would take the next generation Intel Core CPU to fully address that. This model shipped with OS X 10.4 Tiger and supports up to OS X 10.6 Snow Leopard. It is the only consumer MacBook that cannot run OS X 10.7 Lion.
Core 2 Duo (Late 2006)
With the Late 2006 revision (MacBook2,1), the MacBook retained its CPU speed while moving to slightly the more powerful and more energy efficient Core 2 Duo CPU, which has 4 MB of level 2 cache shared by its cores (the 1.83 GHz model retains a 2 MB level 2 cache). The black model was bumped to a 120 GB hard drive, and a faster SuperDrive writes DVD±R at up to 6x.
The Core 2 CPU allows the newer MacBooks to support up to 3 GB of RAM, and the AirPort Extreme circuitry will support the 802.11n WiFi specification with a $2 enabler available from Apple. This is the oldest MacBook to officially support OS X 10.7 Lion.
Core 2 Duo (Mid 2007)
The Mid 2007 revision of the MacBook (also MacBook2,1) saw the first boost in clock speed: 2.0 GHz for the entry-level model and 2.16 GHz for the top end models. 1 GB of RAM was standard across the board. The improved SuperDrive writes DVD±R at up to 8x.
The entry-level MacBook moved to an 80 GB hard drive, the 2.16 GHz white model to 120 GB, and the black model has 160 GB. 802.11n WiFi is standard on this model; no additional enabler is required.
Santa Rosa (Late 2007)
The Late 2007 revision (MacBook3,1) saw the MacBook adopt Intel's "Santa Rosa" chipset, an 800 MHz system bus, and Intel X3100 graphics, which ties up 144 MB of system RAM. 1 GB of RAM is standard, and these models support up to 4 GB of RAM.
This was the first MacBook to ship with OS X 10.5 Leopard.
The faster system bus boosts overall performance on the order of 10%. The 2.0 GHz model comes only in white, and the 2.2 GHz MacBook is available in white or black.
Other than that, these pretty much match the specs of the May 1997 models.
Penryn (Early 2008)
Four months later, Apple unveiled a speed bumped MacBook (MacBook4,1) with 2.1 GHz and 2.4 GHz Penryn CPUs. Bigger drives (120 GB at the bottom, 160 in the middle, and an awesome 250 GB at the top) improve the value, as does making 2 GB standard on the 2.4 GHz MacBooks. This is an incremental improvement, but a nice one.
Prices match those of the models they replace.
MacBook White (Late 2008)
The MacBook White (Late 2008) (also MacBook4,1) is essentially the 2.1 GHz Penryn MacBook upgraded with a SuperDrive instead of a Combo drive. It was the first MacBook to retail at US$999.
The Late 2009 MacBooks were the first to ship with OS X 10.6 Snow Leopard.
Aluminum Unibody MacBook (Late 2008)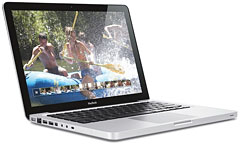 Apple took a big step forward in notebook construction with the Aluminum Unibody MacBook (MacBook5,1) – its case is carved from a block of aluminum for extra rigidity. Apple managed to trim 1/8″ from the MacBook's thickness and a half pound from its weight.
There are big improvements inside as well. The 2.0 and 2.4 GHz CPUs connect to a 1066 MHz system bus, and the "vampire video" of previous MacBooks is a thing of the past – the aluminum MacBook has Nvidia GeForce 9400M graphics, which has 16 cores and uses 256 MB of dedicated video memory. This also marks the MacBook's move to LED backlighting.
This is the oldest MacBook compatible with OS X 10.8 Mountain Lion.
For the first time, Apple is offering a solid state drive (SSD) option on a full-sized notebook, and the 2.4 GHz MacBook is the first MacBook with a backlit keyboard.
The Unibody MacBook was replaced by the 13″ MacBook Pro in June 2009. New features include FireWire 800 and an SD Card slot.
MacBook White (Early 2009, 2.0 GHz, Nvidia)
The MacBook White (Early 2009) (MacBook5,2) adds some technology from the Unibody MacBook to the polycarbonate model – newer 2.0 GHz CPU, 1066 MHz system bus, Nvidia GeForce 9400M graphics, and Mini DisplayPort. At the same time, Apple boosted base RAM to 2 GB, left in the FireWire 400 port missing from the Unibody MacBook, and kept the price at $999.
This model was updated to 2.13 GHz, a 160 GB hard drive, and 800 MHz RAM on May 26, 2009.
MacBook White (Mid 2009, 2.16 GHz)
The Mid 2009 MacBook White (also MacBook5,2) was slightly upgraded in May 2009 with a 6.5% faster CPU, 33% larger hard drive, and 800 MHz RAM (vs. 667 MHz). Other than that, it's the same as the January 2009 model.
Unibody MacBook (Late 2009, 2.26 GHz)
The Late 2009 MacBook (MacBook6,1) uses a new unibody polycarbonate enclosure, runs at 2.26 GHz, and has a built-in 7 hour battery.
Unibody MacBook (Mid 2010, 2.4 GHz)
The Mid 2010 MacBook (MacBook6,2) uses the same unibody polycarbonate enclosure, runs at 2.4 GHz, includes Nvidia GeForce 320M graphics, and has a built-in 10 hour battery. It was discontinued in July 2011 (although still available in the education market for a short time), marking the end of the consumer MacBook line.
Online Resources
Is More RAM More Important Than Matched RAM?, Dan Knight, Mac Musings, 2007.05.25. Other World Computing has benchmarked 15 configurations with six programs and concluded that more memory is better than matched modules. Are they right?
Keyword: #macbookindex
Short link: http://goo.gl/dzKzhM
searchword: macbookindex