2013 – With iOS 7 right around the corner (due September 18th) and OS X 10.9 Mavericks on the horizon, there are several things to consider that are very important to all who may want to keep legacy applications and features alive with OS X 10.6 Snow Leopard, while maintaining the latest and greatest OS X Mavericks is going to provide.
The most logical approach to this is keeping all of that alive on one Mac that can handle everything smoothly. It's definitely possible, but in order to accomplish this goal, running two partitions or multiple drives is the best way to handle things and will provide the most compatibility (rather than virtualizing). This means that you have to steer away from nearly all Macs sold after 2011 (barring some prior model MacBook Pros and iMacs sold in 2012 before they were replaced with USB 3 models and the last tower Mac Pro which is still available in most markets as of this writing), because most of them cannot boot Snow Leopard.
Good Enough for Mavericks
The burning questions on everyone's mind is, "What is the minimum for Mavericks?"
Mavericks System Requirements
Although it not completely official yet, it's safe to say that Mavericks will have the same requirements as OS X 10.8 Mountain Lion. That generally means any Core 2 Duo or later Mac with a 64-bit kernel that shipped with Open CL graphics (minus a few exceptions) and is running with a minimum of 2 GB of RAM and 8 GB of available hard drive space.
If the same official requirement for Mavericks hold true as for Mountain Lion and you want the best of both worlds by dual-booting both Snow Leopard and Mavericks, you will need the right Mac for your needs from a broad list of choices.
Which Macs Will Run Both Snow Leopard and Mavericks?
Here is the list of Macs to the machines currently supported by both Snow Leopard and Mountain Lion (and will likely hold true for Mavericks barring any last minute system requirement changes):
Non-Unibody MacBook Pros that shipped mid-2007 through early 2008 that include the Geforce 8600 GT
All Unibody MacBook Pros that shipped form late 2008 through late 2011*
Unibody Aluminum MacBook (late 2008)
White MacBook (non-unibody May 2009)
White Unibody MacBooks (all units that shipped from late 2009 until the line was discontinued in early 2012)
MacBook Air models that originally shipped from late 2008 through early 2011 (mid 2011 Air and later cannot install Snow Leopard)
All iMacs that shipped from mid-2007 through the education only late 2011 iMac 21.5″ Core i3 3.1 GHz*
All Mac Pros 2008 and newer until the new cylindrical form factor arrives (hacks might be supported on 2006-2007 Mac Pro 1,1 and 2,1 with open CL GPU)
All Mac minis that shipped from early 2009 until mid-2011*
* These machines require workarounds to install Snow Leopard, but it's possible (described below in detail)
Now that the range of Macs capable of running both Snow Leopard and Mavericks is evident (again, most likely the same ones that can run Mountain Lion), choosing the right one to best fit your needs is essential. Before you do that, you have to know exactly what you want and exactly what you are going to get in return from that model. It's good to know what your sweet spot is in terms of power, graphics, features and most importantly price. You have to think some other things through though…
First: Know How to Install Snow Leopard
Consider what Macs require machine specific Snow Leopard builds if you want to install directly from disc or drive. This is important to know, since the last retail version of Snow Leopard is 10.6.3, and Macs that require versions greater than 10.6.3 can't boot and install directly from the final retail disc. Without the machine specific disc for your model, you will need another Intel Mac to install over Target Disk Mode to that Mac or possibly to an external drive in a bootable enclosure that you can transplant.
There was no machine specific Snow Leopard disc for the following,which all shipped with OS X 10.7 Lion:
Mid 2011 Mac mini
Late 2011 Education iMac Core i3 3.1 GHz
Late 2011 MacBook Pro and Early 2011 MacBook Pro that shipped with Lion instead of Snow Leopard (a bit easier to deal with, as these machines can take the machine specific install discs from Early 2011 models that shipped with Snow Leopard 10.6.6, and it might be possible to ask Apple for replacement Snow Leopard install discs for these)
In the case of the Mid 2011 Mini (and also likely with the education only Late 2011 iMac Core i3 3.1 GHz) it seems that these logic boards were designed while Lion was still being finalized, so they were still supported by Snow Leopard even though they shipped with Lion preinstalled. In any case, all of these machines represent a few of the rare exceptions when an earlier OS can be installed on a system that ships with a later one (this usually happens when Apple is in the middle of an OS shift, as in the case with these 2011 models).
Second: Do Some Research
Next think about what Macs can take advantage of some of the latest features in Mountain Lion/Mavericks (such as AirPlay display mirroring and AirDrop) while retaining the ability to use Snow Leopard. Which ones have Thunderbolt? Which have optical drives? Which have 6 Gbps SATA III? Which ones can take USB 3 expansion cards?
RAM
Think about the maximum RAM for each model. This could be critical for those who do a lot of multitasking, and it could also be a roadblock as time marches on a bit further. Most 2007 through 2009 models only support 4 GB officially (but many can exceed the limits to 6 GB or 8 GB depending on the model, although stability can be an issue), while many 2010 and 2011 models can support 16 GB. Research carefully on what model you are honing in on, and know before you purchase what kind of RAM it takes and how much.
Optical Drives
Optical drives tend to be seen as technology of years gone by as far as Apple is concerned, but they offer a nice slice of comfort for traditional users when they are built within the device. There's something about using the built-in optical drive with a Mac that makes it feel complete; requiring external optical drives just don't seem to do any Mac justice, especially portables. Sadly, the optical drive is nearly extinct on Apple products as of this writing and will be included in just one last model – the "traditional" (versus Retina Display) version of the MacBook Pro anticipated when the new Mac Pro arrives (it's quite likely that these "traditional" MacBook Pros get axed as well, making Apple optical drive free).
Thankfully, when considering a Mac that can run both Snow Leopard and Mountain Lion or Mavericks, you are looking at a stretch of time when only one Mac lost its built-in optical drive – the Mac mini, but it wasn't entirely eliminated until 2011 (the 2009 and 2010 server nixed the optical in favor of dual hard drives), so it's pretty worry free when selecting the right machine that will run both operating systems in that regard.
SATA
SATA has grown over the years from SATA I at 1.5 Gbps throughput to 3 Gbps on SATA II devices to 6 Gbps with SATA III. There is a clear evolution of SATA technology between 2008 and 2011. Everything began to shift to 3.0 Gbps SATA II in 2008, which became the norm until the Early 2011 MacBook Pro and Early 2011 iMacs ushered in support for SATA III (6.0 Gbps) devices. Curiously, the current Mac Pro (even in it's minor 2012 refresh) never saw the SATA controller upgraded to 6.0 Gbps SATA III. Thankfully you can add an aftermarket internal PCI Express SATA III controller to all Mac Pros.
USB 3 Expansion
Built-in USB 3 only arrived on the Mac in 2012 – just after the last Macs shipped that supported booting into Snow Leopard. Thunderbolt-to-USB 3 adapters are beginning to pop up a bit more, and ExpressCard34 USB 3 adapters are out there for the MacBook Pro, but as you can see – it narrows down the list to the non-unibody MacBook Pro, Unibody MacBook Pro 17″ models, and 2011 machines with Thunderbolt. USB 3 will undoubtedly be important for those who want to have support for 802.11ac WiFi with USB 3 dongles to transfer information at wireless gigabit speeds (not possible with the limit of 480 Mbps of USB 2.0)
Generally speaking, the latest models that support Snow Leopard have the most support, are the fastest, provide the most features, and allow you to squeeze more out of the experience of booting into both Snow Leopard and Mountain Lion or Mavericks. This tends to make 2011 models the absolute best choice, but ultimately it's up to your needs and your budget when deciding what you want. Again, you have to do your homework and look at every last detail.
Third: Finally, Sort It All Out
This task seems like it's starting to get daunting, but here's where it gets simple – courtesy of the charts below (one each for portables and desktops, reduced slightly to fit the page). Looking at the scope of everything considered, the charts break down some of the key features, making your decision easier. You can now quickly compare the newer models with the older ones. You can't ignore the obvious fact that although the newer 2011 units tend to average on the high end, they yield much more in the long run in terms of both RAM capacity and capabilities.
Mac Portables That Run Snow Leopard and Mountain Lion/Mavericks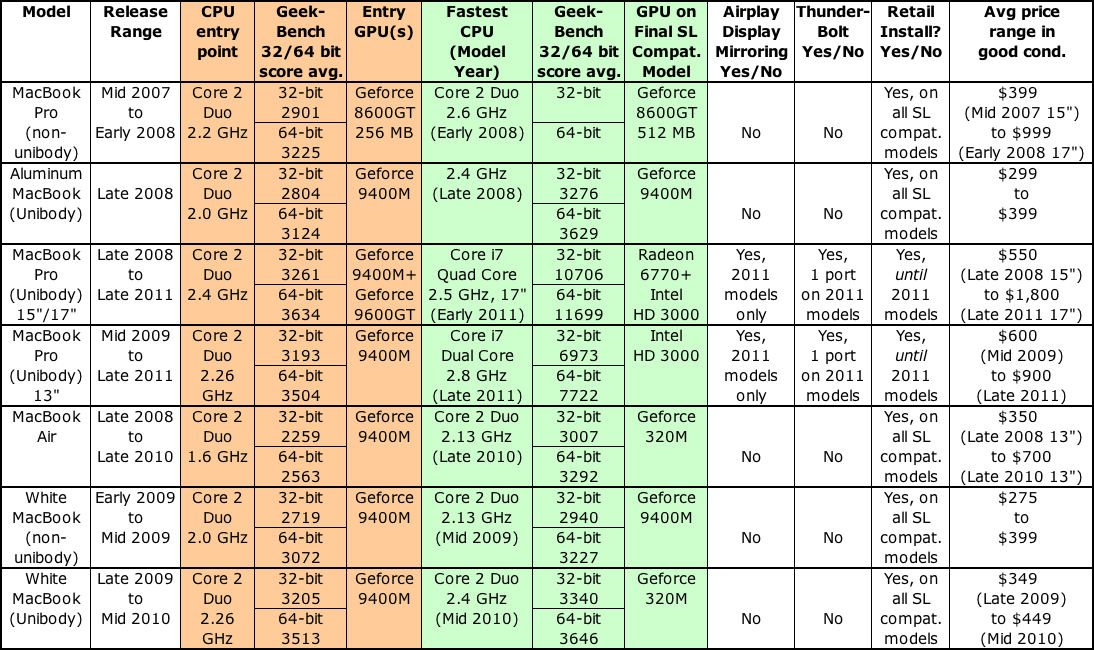 Mac Desktops That Run Snow Leopard and Mountain Lion/Mavericks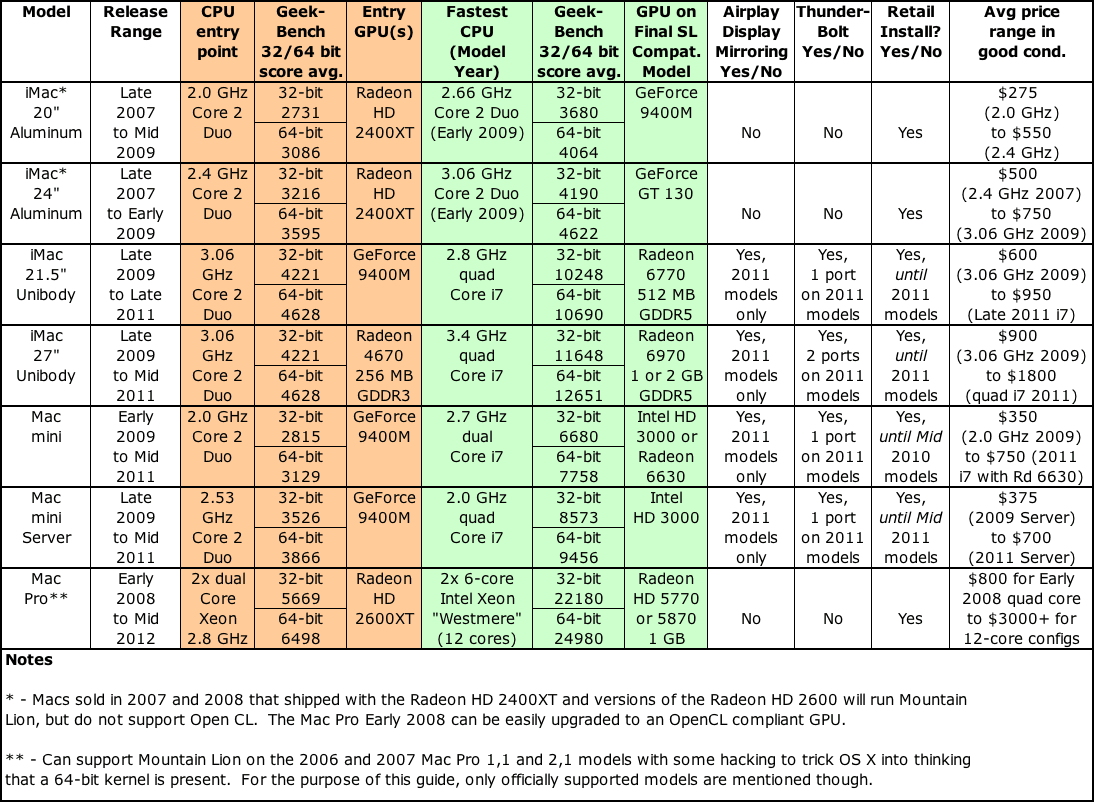 The bottom line here is that there are many possibilities you can choose from when getting a Mac that can run both Snow Leopard and Mavericks (or Mountain Lion currently). You should apply the same logic when Mavericks ships that you did with Mountain Lion with the Mac you are currently running with Snow Leopard or are considering to run with Snow Leopard installed on another partition or additional drive.
What are the best overall choices? Here are my picks of top five Macs I would choose from if in the market for another Mac that can run both Mavericks and Snow Leopard, along with my reasoning (barring the excessive 12-core Mac Pro that is out of reach price-wise for most).
Top 5 Macs to Run Both Snow Leopard and Mavericks
5. 2011 Mac mini Core i7 with Radeon 6630 – It's fast, compact, has discrete graphics (decent GPU for low- to midrange gaming), can handle AirPlay Mirroring, and can readily be found for around $700. The downside is that installing Snow Leopard requires another Intel Mac be used to install Snow Leopard with needed updates. You can add various Thunderbolt enclosures that enable USB 3, optical drives, and more.
4a. 15″ 2011 MacBook Pro  – The 15″ machines are essentially the same as the 17″ (including the fast discrete graphics options and quad core i7), but you lose ExpressCard34 while gaining an SDXC card reader and also get a slightly less impressive display, but it is more portable. It's a good mix of features, but as for adding USB 3 or other expansion, it's not quite as convenient as having the ExpressCard34 slot on the 17″ model if you are on the go (with an ExpressCard34 USB 3 card, you can then easily use USB 3 dongles and next-gen Wifi/Bluetooth dongles).
4b. 13″ 2011 MacBook Pro  – The 13″ is amazing and portable. It can also handle AirPlay Display Mirroring, but you are stuck with Intel HD 3000 graphics for the long haul. Both the 13″ and 15″ are good values for what you get and should better prepare you for Mavericks than earlier models.
3. Early 2008 Mac Pro – Although you don't get AirPlay display mirroring, the point of an Early 2008 Mac Pro is price. They are very affordable (easily had for under $1,000 now) and can be stuffed to the gills with upgrades. How about a SATA III 6.0 Gbps controller and GPU upgrade? No problem. USB 3? Fairly easy to get running at full speeds with a simple PCIe upgrade card. Want to load it up with 2x quad core Xeons, making it a much harder hitting beast? It can be done. The point here is that you can piece things together and slowly obtain a very modern machine through upgrades instead of paying for it all at once, making the entry price of admission something that most can deal with.
2. Mid 2011 27″ iMac – You get a lot for your money on this one. The Radeon 6970 graphics on the high end with 2 GB of GDDR5 VRAM along with a blazing fast 3.4 GHz Core i7 at the high end make this a machine that should keep pace with OS X updates for at least the next 5-6 years (at least when applying traditional logic). The gorgeous 27″ display makes it that much more attractive and can handle resolutions of 2560 x 1440 (4x that of a 720p TV and significantly more pixels than a 1920 x 1080p HD monitor). You can stuff it full with 32 GB of RAM if you want. With 2 open Thunderbolt ports you can be armed with a 27″ Thunderbolt monitor and take advantage of the new extended dual display desktop features that Mavericks will bring, while having another port open to do whatever your heart's content with.
You can even use this iMac's display as an external Thunderbolt display when it's connected to another Mac with Thunderbolt via Thunderbolt Target Display Mode (although I honestly don't really see the point versus the older Target Display Mode). This machine is a beast and is clearly prepared to handle anything for a while.
The internal hard drive can be a pain to deal with if you want to upgrade, and you have to get one of those Thunderbolt hubs that has USB 3 on it to gain that functionality, but with everything the machine is already equipped with, these are minor gripes.
1. Early 2011 and Late 2011 17″ MacBook Pro – I might sound biased, since I'm typing on one of these right now, but for what you get, it has it all. Portability, ExpressCard34 Expansion, internal optical drive, AirPlay Mirroring, excellent power and speed (Geekbench scores over 10,000 on these), great battery life (7-8 hours on a full charge is typical), a gorgeous 17″ 1920 x 1080 display that is no longer offered and that you can get with a nice matte (anti-glare) treatment, and it's easy to upgrade the hard drive.
This thing is a movable workstation and sadly is no longer offered, but if you want to run Snow Leopard alongside Mavericks, any model you select is no longer offered for sale, save the Mac Pro (and that too will be discontinued in its present form soon). Aside from hunting down a machine specific 10.6.6 disc for this MacBook Pro (if you get one that shipped with Lion), there's really no downside.
Runners Up
Honorable mention goes out to the 21.5″ iMac. You have a perfect 16:9 1920 x 1080 HD display, which will allow Blu-ray discs (when you upgrade the internal optical drive) to display in full screen. You can then stream that content to an AppleTV using AirPlay Display Mirroring. Plenty fast with quad-core CPU and very capable Radeon 6770 graphics make it an excellent all around choice and it's affordable – currently selling in the $1,000 neighborhood. The only downside on modern "unibody" and later iMacs is upgrading the internal hard drive, which has specialized sensors and can't simply be swapped with a stock SATA drive – and you only get one Thunderbolt port on the 21.5″.
The i7 Mini get's a slight edge on this iMac due to it's lower cost, small footprint, and ease of upgrading.
There you have it. I hope I made the decision easy for all of you. Again, it seems cumbersome, but when you boil it all down, 2011 gave us the best contenders by far.
Keywords: #osxmavericks #osxsnowleopard
Short link: http://goo.gl/XOPDdL
searchword: snowleopardandmavericks