Best 17" PowerBook G4 Prices
2012.08.22
If you're looking for a great desktop substitute PowerPC Mac at an affordable price, the 17" PowerBook gives you 1440 x 900 resolution in a machine not much larger and heavier than the 15.4" PowerBook.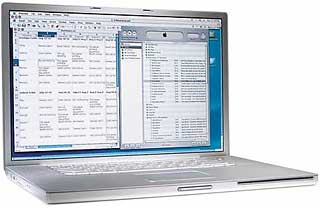 Apple last updated the 17" PowerBook in October 2005, making dual-layer SuperDrives standard, putting in an even higher resolution display (1680 x 1050), and moving a faster memory bus. The newest models are designated as "hi-res" in our listings to distinguish them from the earlier 1440 x 900 resolution 17" PowerBooks.
We've posted an article looking at revised PowerBook value, The October 2005 PowerBook Value Equation.
For a good overview of the 17" PowerBooks, see Low End Mac's Compleat Guide to the 17" PowerBook, and for a recent perspective on their value, see A Used 17" PowerBook as a Budget Notebook Alternative.
We recommend no less than 512 MB for good OS X performance, and more is always better. All 17" PowerBooks support up to 2 GB of memory, ship with SuperDrives (ranging from 1x to 8x, and earlier models don't support DVD-RW, DVD+R, or DVD+RW), 802.11g AirPort Extreme, FireWire 800, Bluetooth 1.1 or 2.0, gigabit ethernet, and have a CardBus slot, so we have not noted these in our listings.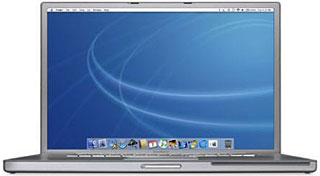 The 17" MacBook Pro replaced the 17" PowerBook in April 2006; it has since been replaced by even more powerful models based on the Intel Core i7 CPUs. All 17" PowerBooks are able to run Mac OS X 10.5 Leopard, and with their speed and at least 1 GB of RAM, they handle it well.
Used PowerBooks usually include a 90 day warranty. We try to factor in shipping costs (estimated based on shipment to Low End Mac headquarters in Michigan) when picking the best deals, which are marked in bold type. All 17" PowerBook shipped from the factory with AirPort Extreme, Bluetooth, and a SuperDrive and should include them. Included batteries may hold little or no charge.
Best Used 17" PowerBook Prices
We try to factor in estimated shipping costs, which vary by location, in choosing the best prices. AirPort Extreme (APX) included except as noted. If you're going to maximum RAM, it costs a bit less to upgrade the 1.33 GHz and 1.5 GHz models than the 867 MHz and 1.0 GHz ones.
HOT

1.0 GHz, $225 + shipping, MacResource
1.5 GHz, $399 + shipping, DV Warehouse
1.67 GHz, $529 shipped, PowerMax
Recent RAM Prices
Replacement Batteries from OWC
58 Watt-Hour NuPower (6% more capacity), $99
55 Watt-Hour NuPower, $79.99
PRAM battery, $27.99
Mac OS X and OS X Server Prices
Listings note RAM/hard drive size. Be sure to factor in shipping costs and possible sales tax. Your best value depends on whether you need/want extra RAM, a bigger or faster hard drive, etc.
Unless otherwise noted, there is no surcharge for credit card purchases, and shipping is not included. Vendors are listed in alphabetical order. Be sure to visit their sites for full details.
Prices may be limited to quantity on hand. Not responsible for typos. Please email any corrections or additional sources with competitive prices toDan Knight .
Buying through some of these links benefits Low End Mac. Buying at these prices benefits you.
Profiles
Ground shipping can add $24 or more. OS X 10.4 installed except as noted.
1.5 GHz, 512/80, $399
1.67 GHz, 512/100, $544
Free ground shipping. Mac OS X 10.4.11 installed. PowerMax has the broadest selection of used Macs of any dealer we track.
1.0 GHz, 512/160, APX, $419 shipped
1.33 GHz, 1 GB/80/Combo, APX, Bluetooth, $419 shipped
1.33 GHz, 512/80, APX, Bluetooth, $449 shipped
1.5 GHz, 512/80, $459 shipped
1.67 GHz, 1.5 GB/120, $529 shipped
lots of other configurations listed, many with screen spots or discoloration
Ground shipping may add $30 or more. 60 day warranty.
1.0 GHz, 512/60, $789.99
1.33 GHz, 512/80, $829.99
1.5 GHz, 1 GB/100, $859.99
1.67 GHz, 1 GB/100, $899.99
Can't afford a 17" PowerBook but need portability? The 13.3" widescreen MacBook with its 1280 x 800 display might be perfect for you - see our MacBook Deals for prices. Also check out our 12" PowerBook G4 Deals, 15" Aluminum PowerBook G4 Deals, 15" Titanium PowerBook G4 Deals, iBook G4 Deals, iBook G3 Deals, and PowerBook G3 Deals.