From Apple II to Macintosh
Mr. Dennis - June 1999
As a teacher I have been using Apples since 1985, when I first started teaching! I had an Apple IIc with a case, plus an old Brother printer.
Well, I finally got my hands on a Mac Classic in 1990, when my school got newer Mac Quadras and redistributed some of the black and white Macs to the teachers. I was really apprehensive, because I like to use things for years like my Apple IIc for my grade book,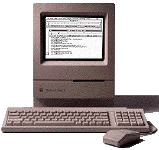 word processing, puzzle making. And the idea of a hard drive instead of my handy 5-1/4" floppies was scary.
But within a week I was in love with my little Mac! I evangelized the Mac to all who would hear, and within two years I had 6 of those black and white Macs networked and working in my classroom. The students used them to write papers, make presentation titles for 3D boards, review for exams and evaluations, and learn economics, geography, and history with the original Oregon Trail!
They served me well until the internet came along. Now I have several Mac IIs and Quadras, and I am hoping (with a grant I am writing) to have 51-Macs to help my students through the New Millennium!
I hope the next ten years will be just as fun as these last ten have been!
Mr. Dennis,
Social Studies Teacher,
Miami Springs Middle School
<dennis_d@popmail.firn.edu>
<http://www.geocities.com/CapitolHill/Parliament/1310/>
P.S.- Will take old Macs (040 or PPC) as donation to the school!
Mr. Dennis is a social studies teacher at Miami Springs Middle School.