Under My Skin
Katherine (a.k.a. BondiBlue2) - 2000.03.15
My first Mac (and my first computer at all) was a Quadra 605 with a 15" NEC multiscan, and external 2x CD-ROM, external 14.4 modem, and an HP DeskJet.
I met a man, and the first time I visited his apt, I saw the Quadra - and he named his HD 'I love kath.' It was love at first sight; the Mac I mean. (Well, him too!)
I had never used computers in school; I don't think there were any! I graduated high school in '83, so the Mac didn't even exist yet.
We moved in together, and since he worked nights, 4-12, I got online. I used AOL and learned how to use their email and browser. I soon discovered I could build a homepage on Geocities, but my computer was a little too outdated to use their WYSIWYG builders - so I learned HTML and began dreaming in code!
I eventually surpassed my husband's Mac knowledge, and I now work for Apple (by way of MarketSource) as an Apple Rep in New York. I support the resellers efforts to train their salesfolk in positioning Apple products and solutions and maintaining the Mac sections. I love talking to the customers and making sure they get the best possible experience when shopping for an Apple computer. It is tough to get these "Wintel guys" to talk up the Mac, but in some stores such as the CompUSA on Fifth Ave. in Manhattan and White Plains, NY, they are so impressed with Apple technology that they are happy to talk Mac! I use Quadlist and other lists to get my finger on the pulse of the Mac user and hear how it goes after that initial excitement of the purchase. I, of course, use it for my own needs as well.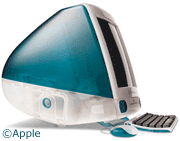 My Mac collection currently consists of a Rev A iMac that I preordered and got on August 15th, 1998, a PowerBook G3/266 (from Apple), and a shiny new iMac DV SE that I just got from Apple as a sales contest prize! And the Quadra is still breathing in my 6 year olds room, where it has been named "just shoot me" after being given a larger hard drive.
I have just redone my living room, where I have the iMacs and PowerBook, along one 12 foot wall in my living room. (See the movie at <http://homepage.mac.com/bondiblue2/imovie.html>.) People think it looks great and not at all office-like. I tell them that is cause the Macs are so gorgeous that you couldn't possibly hide them in a spare room or basement as you do with PCs! I am having great fun with iMovie, my Que drive, Umax 1220U, new hub, cannon Ultura... the list and the fun goes on!
I've only been a Mac user for four years now, and I've learned a great deal, and I love spending all my spare time learning more and using more. I went to my first Macworld last July in NY and will go every time it is in NY. I am now truly devout, as I just got my first tattoo - and it is the 6-color logo on my ankle. I guess you could call me pleasantly obsessed!