It Wasn't Even a Mac
Gregg Eshelman - 2000.09.05
My first Mac wasn't a real Mac. It didn't even physically exist. It was the VMac emulator for Windows.
After getting aquainted with the Mac System, I decided to get a real Mac. I bought a used IIsi with the 12" RGB monitor, then dropped in a positively antique Fujitsu 3.5" full height 500 MB hard drive that was very hot and slow. Finally, I bumped up the RAM to 17 MB. It was slow - very slow - and the 512 x 384 resolution of the 12" RGB wouldn't do for the software I wanted to run.
Before stripping and selling the IIsi, I experimented with networking it to my PC with DAVE.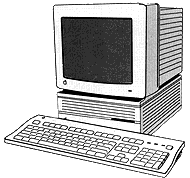 My next Mac was a IIci, to which was promptly added the 16 MB of memory from the IIsi. 25 MHz was still poky next to the 225 MHz Pentium it shared a desk with. In went a 40 MHz DayStar 030 PowerCache. Much better.
I then got another IIci, one with a 50 MHz 030 PowerCache, and transferred all the best parts to it. Still networking with Win95B but WinGate and then SyGate being unreliable often caused "hair loss".
Then I hit my lucky break. A local screen printing and T-shirt shop was moving, and the owner offered to sell me some of their old Mac stuff. They had a IIci, which she didn't remember what all was in it, but she had spent a lot on upgrades, and it still couldn't handle what the business needed to do. I popped the top and, much to my surprise, I recognized a DayStar Turbo 601 in the cache slot! Keeping my cool I said "How does $10 sound?" Sold! This "bad" IIci also had a 500 MB Apple hard drive, 32 MB of RAM, and an E-Machines DoubleColor SX video card. I've upgraded it with an Asante NuBus network card, 80 MB of RAM, a 1 GB IBM hard drive, and an Apple 4•8 video card. I also picked up a pile of old software and an external SyQuest 44 MB drive with several disks for another $10. The Turbo 601 is "only" 66 MHz, but it does the job. Currently the monitor is an old NEC Multisync Plus hooked to the E-Machines board through its BNC jacks. Neither NEC nor Griffin has any info on this monitor.
The "Power IIci" is running Mac OS 7.6 and is networked to my AMD K6-2/350 with 64 MB of RAM running Win98SE. It has Internet Connection Sharing installed, which works beautifully with the Mac and DAVE. No more dropped or timed out TCP/IP connections between the two computers!
Now I'm back to another virtual Mac, Basilisk II on Windows. It's also available for many other systems. (MacGhost in the machine?)
As for real Macs, the only one I have now is the Power IIci. I have the same attitude towards Macs as I have towards PCs and all the other computers I've ever owned. If I'm not using it regularly, it must go, hopefully to someone who can use it. I hate to see old hardware that is still operable get trashed - or sit around cluttering up my space.