14" iBook G4/933, 1 GHz (2003)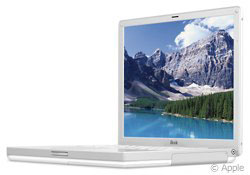 Th 1.0 GHz iBook is often sold on the used market as a 1.07 GHz iBook G4. Apple marketed a 1.07 GHz machine as a 1.0 GHz model for the sake of simplicity, despite the fact that a 14% speed difference would have made the top-end iBook a much more attractive option than one only 7% faster in clock speed. Benchmarks bear this out.
With the introduction of the G4 iBooks in October 2003, Apple phased out the last Macs with G3 processors, which had been in use since November 1997 - and brings the iBook to the 1 GHz mark. Although the G4 iBooks use a G4 CPU, it's not the same one used in the PowerBook G4 - this version has only a 256 KB level 2 cache, which means it won't provide the same performance as a PowerBook at the same clock speed.
The new iBooks support AirPort Extreme, which has 5x the bandwidth of the original AirPort. Also new are USB 2.0, Mobility Radeon 9200 graphics, room for an internal Bluetooth module, and the use of DDR (double data rate) RAM.
Base memory is 256 MB (128 MB onboard, 128 MB in a slot).
Apple has admitted to a manufacturing defect in first generation G4 iBooks that may cause the power system to fail due to failed solder joints.
Details
introduced 2003.10.22 at US$1,299 (933 MHz) and $1,499 (1 GHz); replaced by 1.07 and 1.2 GHz models 2004.04.19
requires Mac OS X 10.3 or later
CPU: 933 MHz/1.07 GHz G4
bus: 133 MHz
performance:

Geekbench 2 (Leopard): 555 (1.07 GHz)
Geekbench 2 (Tiger): 486 (933 MHz)

ROM: 4 MB, NewWorld ROM in RAM architecture
RAM: 256 MB of SDRAM (128 MB soldered in place), expandable to 1.125 GB using one 1.25" PC2100 compliant SO-DIMM (PC2700 compatible)
Level 2 cache: 256 KB on-chip cache
Video: ATI Mobility Radeon 9200 4x AGP
VRAM: 32 MB
display: 14.1" 24-bit 1024 x 768 91 ppi color active matrix, resolution scaling for 640 x 480 and 800 x 600 modes
video out: VGA and composite video
hard drive: 40/60 GB UltraATA-100
optical drive: 16x8x24x CD-RW/DVD-ROM Combo drive
floppy drive: external USB only
expansions bays: none
USB: 2 USB 2.0 ports
FireWire: 1 FW400 port
ethernet: 10/100Base-T
modem: v.92 56k
WiFi: 802.11g AirPort Extreme optional
microphone: built in
PC Card slots: none
Battery: rated at 6 hours
size: 12.7 x 10.2 x 1.35" (32.3 x 25.9 x 3.4 cm)
weight: 5.9 pounds (2.7 kg) with battery
Online Resources
Cautions
There is an incompatibility between the Kensington Startup ADB extension and the Trackpad control on the iBook with Mac OS 9.0.4. Symptom: trackpad responds during boot, but not later. Solution: disable Kensington Startup ADB extension. This may also apply to other USB portables and versions of the Mac OS.
Portable Computers: Models Which Do Not Have a Backup Battery notes the iBook has no backup battery to retain time and other settings when the main battery is removed. A small capacitor holds enough energy to maintain PRAM contents for 20 seconds, so switch batteries quickly.