Color Classic
Low End Mac Reader Specials
The Color Classic has 4 MB soldered to the motherboard. There are two SIMM sockets, which can be used to expand the CC to 6 MB, 8 MB, or 10 MB.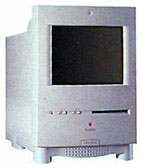 The Color Classic has a very nice design - the motherboard can be slid out of the back, eliminating the need to take the case apart.
When upgrading, be careful not to damage the SIMM sockets, especially if you are removing memory.
To upgrade the Color Classic, you will need two matching 30-pin SIMMs. They must be rated at 100ns or faster and may be 1 MB, 2 MB, or 4 MB in capacity.
Since there are only two SIMM sockets, it's easy to figure out where the memory goes. And since the Classic II automatically recognizes additional memory, there are no jumpers to worry about. Just snap the new RAM into the SIMM sockets.
Now reseat the motherboard in its mount, reconnect all cables, and test it. (Careful of exposed wires - nothing worse than getting the whole thing back together and discovering you have a bad SIMM or have not seated the memory correctly.) Boot your Color Classic with extensions off (hold down the shift key) and check "About This Macintosh" under the Apple menu. If it doesn't give the expected number, you should reseat your memory.
Once you know the upgrade is a success, put the back on your Color Classic, tighten the screws, and enjoy the extra memory. Some suggestions:
If you have a hard drive, increase the size of the disk cache.
If you are floppy based, create a RAM disk - much faster than disks.
Recommendation
If you have less than 10 MB installed, upgrade to 10 MB.
<go to memory upgrade index or Color Classic>

Low End Mac is an independent publication and has not been authorized, sponsored, or otherwise approved by Apple Inc. Opinions expressed are those of their authors and may not reflect the opinion of Cobweb Publishing. Advice is presented in good faith, but what works for one may not work for all.
Entire Low End Mac website copyright ©1997-2013 by Cobweb Publishing, Inc. unless otherwise noted. All rights reserved. Low End Mac, LowEndMac, and lowendmac.com are trademarks of Cobweb Publishing Inc. Apple, the Apple logo, Macintosh, iPad, iPhone, iMac, iPod, MacBook, Mac Pro, and AirPort are registered trademarks of Apple Inc. Additional company and product names may be trademarks or registered trademarks and are hereby acknowledged.
Please report errors to .
LINKS: We allow and encourage links to any public page as long as the linked page does not appear within a frame that prevents bookmarking it.
Email may be published at our discretion unless marked "not for publication"; email addresses will not be published without permission, and we will encrypt them in hopes of avoiding spammers. Letters may be edited for length, context, and to match house style.
PRIVACY: We don't collect personal information unless you explicitly provide it, and we don't share the information we have with others. For more details, see our Terms of Use.
Channels
Power Macs
iMac Channel
iBook/PowerBook
MacInSchool
Computer Profiles
iMac
Power Mac
PowerBook/iBook
Performas
Mac Clones
Older Macs
Lisa • NeXT
Editorial Archive
Mac Daniel's Advice
Email Lists
LEMchat (uses AIM)
Online Tech Journal
Consumer
advice, reviews
guides, deals
Software
Apple History
Best of the Web
Best of the Mac Web surveys
Miscellaneous Links
Used Mac Dealers
Video Cards
Mac OS X
Mac Linux
Macspeak
RAM Upgrades
About Low End Mac
Site Contacts