Macintosh Color Classic
Dan Knight - 1998.01.10
Second Class Macs are Apple's somewhat compromised hardware designs. For the most part, they're not really bad - simply designs that didn't meet their full potential. (On our rating scale, the more brown apples, the worse the hardware.)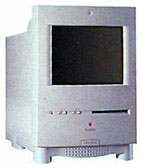 Proving you can't take a compromised design too far, Apple recycled the 32-bit CPU on a 16-bit bus architecture of the LC, LC II, and Classic II, this time in the first compact Mac with a color screen - also the first compact Mac since the SE/30 with an expansion slot.
Unlike the Classic II, which supported the standard compact Mac 1-bit 512 x 384 monitor, or the LC and LC II, which supported both a 512 x 384 color monitor and a standard 640 x 480 monitor, the Color Classic only supported a 512 x 384 color monitor. This made it incompatible with a fair bit of color software that expected the larger 640 x 480 screen, the same problem LC owners had with Apple's 12" color display. (Some hardware gurus found a way to modify the Color Classic to support 640 x 480 on the internal screen.)
Apple did introduce a few innovations with the Color Classic:
a built-in microphone
a readily accessible motherboard - just open the rear panel and slide out the board for upgrades.
One important option, especially for the education market, was the Apple II emulator for the PDS. On the down side, many accelerators for the PDS that work in the LC and/or LC II don't work properly in the Color Classic (for reviews, go to my main Color Classic page).
Still, it wasn't a really bad Mac, just a compromised one. P
Pretty much every one of its limitations were overcome by the Color Classic II (unfortunately, never marketed in the United States).

Details
introduced February 1993 at $1,390; discontinued May 1994
requires System 7.1 to 7.6.1
CPU: 16 MHz 68030
FPU: 68882 (optional)
performance: 1.7 (relative to SE)
RAM: 4 MB, expandable to 10 MB using two 100ns 30-pin SIMMs
VRAM: 256 KB, expandable to 512 KB for 16-bit color
10" color screen, 512 x 384 pixels
ADB: 2 ports for keyboard and mouse
serial: 2 DIN-8 RS-422 ports on back of computer
SCSI: DB-25 connector on back of computer
LC PDS slot
Other Resources
Join us on Facebook, follow us on Twitter, use our Google+ page, or read our RSS news feed
Links for the Day
Mac of the Day: Centris 610, introduced 1993.02.10. This was the Mac we used when we started Low End Mac in 1997.
Recent Content
Recent Deals