Two Years on a $5 Mac
Dan Sniadoski - 2001.10.31
Back in 1993 I had many friends who were (and still are) Mac users. I had also used computers of many platforms in school (everything from DOS and Windows to an SGI), but my field of study, Industrial Design, pressed people to work primarily in Windows with AutoCAD.
One day I noticed that a friend's roommate, who had just moved in, had received a special delivery that I had nearly tripped over. What I later discovered was a Mac 512 upgraded to a Plus, was literally being used as a doorstop. Until that day I had only ever seen an all-in-one Mac (of any kind) at school.
After nearly killing myself going into the apartment, he said, "Oh, don't mind that thing. Just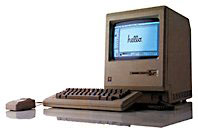 kick it out of the way."
The first thing I said in response was, "Does it still work?"
At the time, I was computerless. I needed something to draft up stuff for class. A typewriter would have sufficed, but something like this would have really helped, as I could stick my work on a floppy and take it to school to print.
I asked him what he wanted for it. He said he wasn't sure, so I replied, "How about the $5 in my pocket, as it's obviously in the way." That night I took home a Mac Plus with 2 MB of RAM, a working external 20 MB, and about 130 floppy discs full of shareware and old games (most of which didn't work).
Over time, the display started to give out. The lower half would condense upward to the middle of the screen, while the top part would retain it's original proportions. It was really weird to watch this happen. The funny thing was, if you slapped the right side just right (not the left), it would bounce back and stay for a couple more hours.
Today the old Plus is long dead and buried. That screen problem just wouldn't go away, and one day it just went black. It lasted until August 1995, almost two years to the month from the day I bought it.
Most people I know say their first computer was the most expensive they ever purchased. They always look shocked when I tell them mine cost $5, fully loaded.