A Mac Plus in 1986 - the Rest Is History
Scott Clausen - 2002.01.02
I first saw computers in the 1970s as a Naval Officer. They were very crude by today's standards, but interesting. I didn't get involved with them, as I had my career and was living a single life.
That all changed in July of 1986. I had transferred to Norfolk, VA, and once again become interested in computers. The IBM PC (AT or XT, I can't remember the model) was the rage at the time, and I was really wanting one. One day, on the way home from work, I saw an Apple dealer and decided to see what their product was like. Other then a few ads, I didn't know a thing about them.
I entered the store, and the rest is history. Three hours later I left with my first computer, a Mac Plus. Seeing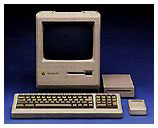 how this computer allowed me to get work done sold me instantly on the Macintosh way. Over time the Mac became indispensable. Daily I took it to my office and used it, until I upgraded to an SE/30 and LaserWriter.
Transferred to Germany, it served me well in helping the military base graphics shop complete their tasks. Most importantly, it was the reason for meeting my wife. She was the area representative for a company that sold Macs on American military bases in Europe. We met, and the rest is history.
To make a long story somewhat short, we were married 19 months later and are now retired in Washington state. I'm typing this in OS X on a G4 minitower. I have an 8600 sitting behind me next to my ham radio. (My SE/30 is retired in the garage, but still works.) My wife works for Apple, and I work for a manufacturing company that uses Macs throughout all areas of it's operations.
You can say that the Mac brought us together. As schmaltzy as it sounds, that's exactly what happened. It's been a grand 15 years with Apple, and I hope to have many more.