A Computer I Understood
Cheryl Hanna - 2000.05.23
My word processor broke down in 1996, and the repair shop couldn't or wouldn't find parts. A friend offered to give me a computer, and with trepidation I decided to take the plunge. I went over to his house to pick it up. It was an intimidating sight: a gigantic IBM XT that sat brooding like a malign godling in a neglected corner of his study. Tiny green letters swam on an inky black background....
My friend began to run through the startup procedure. In five minutes I was completely confused. Not only that, my friend perversely refused to let me write anything down, barking that I had to start memorizing it.
I spotted an attractive, if battered, white box sitting in a jumbled storage area off to the side of his study. On the side it said Macintosh. Don't get too excited, I told myself. Probably old papers or old clothes. Maybe even old shoes. "What's that?" I asked, feigning casualness.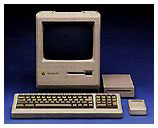 "Oh, that! You don't want that! A friend of mine gave it to me. It's useless. Can't do anything with it. I already looked into it." Nevertheless I insisted in hauling the box out. The box said Macintosh 512Ke. We took it out. It was missing the keyboard cable.
What a cute little thing! I immediately wanted it. My friend agreed, indulgently, but insisted I take the XT - a real computer.
Two or three calls and a week later I was able to locate a source for the missing cable. (I discovered Tekserve, a major fount of Macintosh support here in New York and elsewhere.) We plugged it in and stuck in a floppy disk. The Mac spit it out with a little symbol - a disk with an big black X. I laughed to my friend, "It doesn't like that."
Here was a computer that I understood without translation.
Other good friends appeared from nowhere and supplied System 6 software and an original copy of Microsoft Word 3 with all the manuals. My investment: $20 or so for the keyboard cable.
I remember putting it together myself. I can do this, I thought. Every cable had little pictures on it to show where it went. How sensible! And I was so thrilled with the white screen. Black letters on a white screen! More than one type face! Real italics! I was hooked. I proceeded to immediately finish a manuscript, which I subsequently sold.
The 512Ke box had turned out to contain a Plus (another thrill, once I understood what it meant - SCSI!), and the same generous friends reappeared later that year with a hard drive, an ImageWriter II, and yet another Plus that I gave to another starving artist. (She's still using it.) The XT? I sold it for my first to someone else. I was never able to get past the startup, since I had no manuals, no notes, and no interest. Nor did any of the dealers I questioned give me anything but the horselaugh. (Granted, the XT was somewhat older than the Plus.)
Every Mac dealer or user I called was helpful and civil (if a little bemused - "One meg, you say?"), and they all knew seemed where to find the old stuff.
The kicker? About a year (and several upgrades) later, I bought my second Mac, a used LC. My first scoffing friend was still pursuing an unrequited romance with the dark side. He invited me over to see his new (used) PC clone, a big step up from his IBM AT. The poor guy was so excited to be graduating from DOS to Windows. But when I got there, he couldn't start it up. In cleaning out the previous owner's files, he had accidentally discarded an important little piece of system software. I was still pretty new to the Mac, but I knew my computer would never let me do that.
Despite broad inquires and numerous cries for help, we were never able to get the PC running again - with our limited layperson's resources, anyway. (Neither of us were online at the time.) Dark side computer folks (and friends!) just told us to throw the thing away. Mind you, nothing was wrong but a missing piece of system software. Comprehend that if you can, Mac people. The seller refused to even return my friend's calls. I offered my friend my (his old) Plus, which he took with gratitude, since he had books to finish. He used it for a year before we found yet another home for it. As far as I know, it's still in operation in my photographer's playroom. The PC went out in the trash.
And my friend was permanently cured of the desire to traffic in dark side machines.