Add FireWire, USB to Older Macs
Charles W. Moore - 2001.03.19
If you have a Power Mac or clone with PCI slots that precedes the USB/FireWire transition, there's no need to feel shut out. Adding USB and/or FireWire to your older Mac is one of the least expensive ways to upgrade its capabilities and extend its useful life.
I recently added both USB and FireWire connectivity to my Umax SuperMac S900 project machine, which, if you're a regular Miscellaneous Ramblings reader, you have already heard quite a bit about.
S900 Update
So, before I get to the connectivity upgrade, I'll bring everyone who is curious up-to-date on the status of the S900.
At the time of my last progress report, I was still having major problems getting the big machine to boot from a cold start. I was obliged to use means such as inserting a bootable CD and then hitting the reset button to coax it to boot from the System on the hard drive.
Many readers offered helpful suggestions, for which thanks to all, and several suggested that the problem might be the hard drive, which was a Seagate Barracuda 2.15 GB, 7200 RPM unit I purchased new with the S900 in May 2000. Since I had tried all manner of SCSI tweaking that had been suggested, I was coming to the same conclusion.
A reader named Chris Hart said that he had some Quantum SCSI hard drives pulled from Power Computing machines, and he offered me a 4 GB Fireball 5400 RPM unit at an agreeable price.
To make a relatively long story short (I had many frustrating adventures trying to make both drives work happily together before giving up on the Seagate), the Quantum drive now reposes in the S900's drive bay, and boots the machine reliably. The problem appears to have been the Seagate drive all along. The latter has been banished to my son's SE-30, where it is still behaving erratically.
However, I'm just happy to have the S900 working the way it should, and I wish I had tried another hard drive sooner. Now, on to those interface upgrades.
FireWire/USB Cards
My latest additions to the S900 are a Macally PCI to USB adapter card and a Macally PCI to FireWire adapter card. Universal Serial Bus (USB) is the new standard adopted by Apple beginning in 1998 to replace ADB, Serial, and to some degree SCSI ports for connecting peripheral devices to Macintosh computers. Common USB devices include ink jet and laser printers, digital still cameras, scanners, game pads, joysticks, keyboards, pointing devices, storage devices, and hubs. USB provides many advantages, including the ability to "hot swap" devices without shutting down or restarting the computer, support for up to 127 attached devices, and up to 12 megabits per second throughput.
FireWire promises both speed and user-friendliness, is fast, is hot-pluggable, and can daisy-chain up to 63 devices - far more than 99+ percent of users would ever imagine connecting. It uses small cables with compact connectors and supports bus powered devices, which SCSI doesn't.
Installing the PCI to USB adapter card in the S900 was easy. Getting the S900 case open is a bit of a wrestle (although no tools are needed), but once the tower's side cover pops off, there is easy and convenient access to the RAM (8), processor (2), and PCI (6) slots. It was simply a matter of removing the blanking plate over an empty PCI slot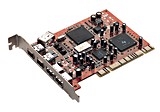 aperture (one Phillips screw) and inserting the Macally card in the slot. Less than a minute, or counting getting the case opened and closed again, about five minutes.
The card works fine with Mac OS 9.1, which is what I am running on the S900, but I found that with OS 9.0 or earlier, I had to download Apple's USB Adapter Card Support software in order to make it work.
Macally's PCI to FireWire adapter was just as easy to install and required no driver additions to make it work with OS 9.1. I did not try it with earlier OS versions, but Macally says it will support back to OS 9.0.
I simply unpacked the card, stuck it into one of the six PCI slots, booted up the S900, and it worked.
The Macally PCI to FireWire adapter powered up a Que! M2, 6 GB hard drive through the FireWire bus with no problem, but some suggest that even if your FireWire adapter card supports bus-powered devices, that can put a strain on the motherboard, so it is preferable to use an external power supply for FireWire devices connected to a PCI FireWire card. This will ensure that the devices have enough power to work reliably, and forestall any mobo problems.
The Macally PCI FireWire 3 Port Adapter provides two external and one internal FireWire ports.
I would rate these interface upgrades as completely successful, at least with the peripherals I have tested, including a variety of USB keyboards and pointing devices, the Que! M-2 hard drive, and a Que! Fire 16x 10x 40x FireWire CD-RW burner.
There have been no problems or unexpected anomalies noted with any of these devices. The USB keyboard power-on key is not supported by the USB card, so it is necessary to keep an ADB keyboard connected for that purpose. The 200 MHz 604e processor can only handle 10x writes on the fast CD-RW drive, but that is not the fault of either the FireWire card or the drive.
With these USB and FireWire adapter cards installed, my S900 now supports a whopping seven different connectivity options, including SCSI, ADB, serial, ethernet, and the modem port. This provides incredible flexibility and is a way for users with a significant investment in legacy peripherals to make a more gradual transition to USB and FireWire while continuing to get use and value from their older stuff.
I have no hesitation in recommending the Macally PCI adapter cards to anyone with a PCI Mac who wants to connect USB or FireWire devices. The best news is that Macally now has combined the functionality of both of the cards I have into one $99 card - the Macally PCI to FireWire and USB Adapter which provides both FireWire and USB ports on one PCI card, including three 6-pin 1394a ports (two external and one internal) and two external USB Type A ports.
This is a great deal, since the Macally PCI FireWire 3 Port Adapter was selling last fall for $179, and the PCI to USB card for $99. The new Macally PCI to FireWire and USB Adapter also has a MSRP of $99, and includes support for both interfaces without taking anything away.
A single card solution is not a big deal for me with the S900 and its six PCI slots, but it is a significant issue for lesser endowed machines.
Macally PCI to USB Card features
Compatible with MacOS 8.5.1 or later
Requires Macintosh with available PCI slot
Installs quickly and easily to internal PCI slot
Provides two USB Type A ports
Fully compatible with USB specification
Plug and Play
Supports multiple Macally PCI to USB card for additional USB ports
Lifetime warranty
USB Card System requirements
Mac Os 8.5.1 Or Above Or Windows 98
Any Macintosh With An Available PCI Slot Or
Any AT PC or better with an available PCI slot
Macally PCI to FireWire 3 Port Adapter System requirements
MacOS 9 or later
Mac with PCI slot