Give the Gift of Low End Mac
Daniel Knight - 2002.12.09 -
Whether you're celebrating Christmas, a birthday, or another holiday this month, gift giving is often part of the celebration. I'd like to suggest you consider giving the gift of Low End Mac.
Spreading the News
First, tell all your Mac using friends about Low End Mac (along with your other favorite websites, Mac-related and otherwise). I think it's a great resource for Mac users, and I hope you feel the same way about it. Just send an email suggesting they visit <http://lowendmac.com>. Simple and free.
The Shirt on Your Back
We have a lot of different T-shirt, sweatshirt, and other products available at the Low End Mac Online Store. Over the Thanksgiving weekend we redesigned our popular "I Switched" shirts so the front says I Switched and the back says Mac User Since 1984 (or whatever year you choose).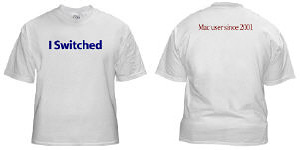 White T-shirts are $15.49. Gray T-shirt, long sleeved T-shirts, sweatshirts, and other styles cost more.

We even have Too Young to Switch products available for kids.
Other products include mugs, tote bags, coolers, mousepads, and license plate frames. Available slogans include I Love My LowEndMac, ...because every Mac becomes low end sooner or later, and It ain't obsolete 'till I say it is.
Order now so they arrive in time for the holidays.
Support Low End Mac
You can also financially support Low End Mac through donations. It costs us about $3,000 a month the run this business, and most months our income falls very short of that amount.
To send money online, see the options on our support page. Note that due to still unresolved problems that began when our PayPal account was hijacked over the summer, we are no longer using PayPal.
We hope to have our subscription system back online in early 2003. This will allow you to support Low End Mac financially and view the website without ads.
As always, any and all support is greatly appreciated.