Anticipating Macworld: Nehalem, Snow Leopard, and Updated Desktops
Daniel Knight - 2008.11.18 -
Apple has spread the word that there will be no more new Macs until 2009.
The Mac mini hasn't been updated since August 2007, when it became the last Mac to move from Intel Core Duo architecture to Core 2 Duo. It tops out at 2.0 GHz.
The iMac, Apple's other consumer desktop, was last updated in April 2008, when it moved to a 1,066 MHz bus and a top speed for 3.06 GHz.
The Mac Pro, the most powerful and most expensive computer Apple makes, was updated in January 2008, and it's available in speeds up to 3.2 GHz (with two quad-core Xeon CPUs).
With the entire notebook line updated last month, these are the models Apple is most likely to update at the January 2009 Macworld Expo.
Mac Pro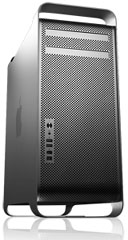 This week Intel released its new Core i7 CPU, code named Nehalem. It's a quad-core CPU that uses a new architecture - dedicated L1 and L2 caches for each core plus a shared 8 MB L3 cache, an integrated memory controller,
The top-end Core i7 Extreme Edition runs at the same 3.2 GHz as the quad-core Xeon used in the Mac Pro, costs $999 in quantity, and sometimes outperforms 8-core Xeon configurations. It's designed for the top end, PC vendors are announcing i7-based computers, and I can't imagine Apple not introducing a Mac Pro with Nehalem inside at the Expo.
The Core i7 CPU is available in speeds of 2.66 GHz, 2.93 GHz, and 3.2 GHz, so it's pretty obvious what CPU speeds Apple is going to offer. My guess is an entry-level 2.66 GHz Mac Pro with a single quad-core CPU using the $284 low-end i7 chip, a 3.2 GHz Mac Pro with two quad-core CPUs using the $999 chip, and a 2.93 GHz model in between, which will use the $562 version of the i7 CPU.
And expect lots of build-to-order options, probably even more than the current Mac Pro has.
iMac
The iMac has moved further and further from its roots as an affordable consumer computer. The first iMac retailed for US$1,299, and iMac prices dropped as low as $799 for the 350 MHz indigo iMac. Since then, prices have gone up.
Since moving to Intel CPUs, the iMac has become something of a powerhouse, offering more processing power than most people need most of the time. As the current 24" iMac has a Core 2 Extreme option, I wouldn't be at all surprised to see something similar in the Early 2009 iMac - maybe a 3.2 GHz quad-core CPU as a top-end build-to-order option.
Ballpark guess: 20" 2.66 GHz and 2.93 GHz models plus 24" 2.93 GHz and 3.2 GHz models. Also expect to see Nvidia GeForce 9600 graphics using the desktop version of the GPU found in the latest MacBook Pro.
Also expect to see DVI give way to the newer DisplayPort video connector, and don't expect FireWire to disappear from the iMac - it may become another advantage the iMac has over the Mac mini.
Mac mini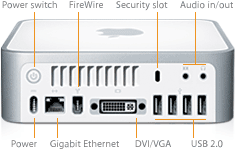 Apple says it's not going away, but it has definitely been left behind. Expect it to come close to the specs of the MacBook: 2.0 and 2.4 GHz CPUs, 1066 MHz system bus, support for 6 GB of RAM (let's hope for 2 GB standard), and Nvidia GeForce 9400M graphics. Maybe Apple will finally ditch the Combo drive on the low-end model, as they finally did with the MacBook - but don't hold your breath. Apple wants to sell more of the higher cost, more profitable model.
As for FireWire, much as many of us would love to see it, I suspect Apple is going to eliminate it on the Mac mini.
One More Thing
My prediction is that all of the new Macs will ship with Mac OS X 10.6 "Snow Leopard" - and that Apple will make it a free upgrade to anyone who bought the Late 2008 MacBook, MacBook Air, or MacBook Pro. It will be optimized for 64-bit operation, the Core i7 architecture, and the latest Nvidia GPUs. It will be nearly bug free, as it will be strongly rooted in OS X 10.5 "Leopard", and it will unleash the power of Intel at the heart of every Mac introduced since January 2006 - particularly the Core 2 Duo and later models, which support 64-bit operation.
At least that's how I see the pieces coming together.
Join us on Facebook, follow us on Twitter or Google+, or subscribe to our RSS news feed
Dan Knight has been using Macs since 1986, sold Macs for several years, supported them for many more years, and has been publishing Low End Mac since April 1997. If you find Dan's articles helpful, please consider making a donation to his tip jar.
Links for the Day
Mac of the Day: Original iMac, introduced 1998.05.06. The Bondi blue wonder that bounced Apple back to profitability and into the public eye.
Recent Content