The October 2008 MacBook Value Equation
Daniel Knight - 2008.10.15 -
Apple isn't making it easy for anyone this week: The 17" MacBook Pro has been upgraded a bit, the entry-level MacBook has also been upgraded and price reduced, the MacBook Air has had some significant changes, and the aluminum MacBook and 15.4" MacBook Pro use a new manufacturing process - their cases are carved from a block of aluminum.
With such a wide range of changes, we're going to do one comprehensive "value equation" column, working our way up from the least expensive model.
MacBook White
The MacBook White is essentially the 2.1 GHz Penryn MacBook with a SuperDrive instead of a Combo drive. At US$999 retail, it's the first Intel-based MacBook to come below the $1,000 barrier, albeit barely. It provides a lot of value for the money - until now, $1,299 was the lowest price for a MacBook with a SuperDrive.
Surprisingly, there is no change in clock speed, leading me to suspect this may be the end of the road for the plastic MacBook design.
We updated our MacBook price tracker this morning, and while several dealers don't yet list the new model, most do have discounted prices on the Feb. 2008 MacBooks:
2.1 GHz Combo, $944 shipped ($869 after mail-in rebate)
2.1 GHz SuperDrive, $999 shipped
2.4 GHz white, $1,250 shipped ($1,175 after mail-in rebate)
2.4 GHz black, $1,294 shipped ($1,194 after mail-in rebate)
What I find most interesting is the small price difference between the 2.4 GHz white and black models. No more $200 "black tax" - it now ranges from $20 to $50. The 2.4 GHz models clock 12.5% higher than the 2.1 GHz ones, and that's exactly the difference (before rebates) between the 2.1 GHz and 2.4 GHz white SuperDrive models. Factor in twice the RAM and bigger hard drives, and you've got your winner.
However, once you factor in those mail-in rebates, the discontinued MacBooks are the better deals. And if you've been lusting after black, now is the time to buy!
Finally has refurbished MacBooks in stock:
refurb 2.1 GHz Penryn, Combo, $849
refurb 2.2 GHz Santa Rosa, white, $999
refurb 2.4 GHz Penryn, white, $1,049
refurb 2.4 GHz Penryn, black, $1,099
With free ground shipping, I'd order refurbs from the Apple Store to avoid the hassles of rebates and end up with a lower price on top of it. All things considered, I'd skip the Santa Rosa model and pick any of the Penryn ones.
Aluminum MacBook
Apple really surprised me with the "Unibody" MacBook - not because it's aluminum, but because the two new models seem to offer less for your dollar than the models they replace. Part of that is because it's not really possible to quantify the difference in the video realm. What is a 5x as fast GPU worth?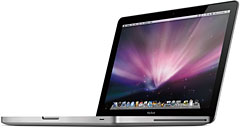 The aluminum MacBook is thinner (0.95" vs. 1.08") and lighter (4.5 lb. vs. 5.0 lb.), another intangible.
The entry-level aluminum MacBook runs at a pedestrian 2.0 GHz - slower than the MacBook White - on a 1066 MHz bus (which is faster than on the MacBook White). At the $1,299 price point, the comparison with the 2.4 GHz white MacBook is obvious. You have the same RAM and drive configuration, you gain GeForce 9400M graphics and an aluminum case, but you lose FireWire and 16.6% of your CPU speed. Reducing the CPU speed below that of the MacBook White just doesn't make sense.
The top-end MacBook runs at the same 2.4 GHz as the model it replaces. It has the same RAM and drive configuration, and again you gain GeForce 9400M graphics and an aluminum enclosure. You have a slightly faster memory bus and gain a backlit keyboard, but you lose FireWire and pay $100 more than the original retail of the discontinued model.
To make matters worse, the old MacBooks are being blown out:
2.0 GHz aluminum, $1,299 shipped
2.4 GHz white, $1,250 shipped ($1,175 after mail-in rebate)
2.4 GHz black, $1,294 shipped ($1,194 after mail-in rebate)
2.4 GHz aluminum, $1,599 shipped
Unless you do something where that new Nvidia GPU is going to make a huge difference, picking the close-out 2.4 GHz MacBooks is a no brainer - even more at refurbished prices.
Until someone starts offering rebates on the new models, the value is in the close-out MacBooks.
MacBook Air
The MacBook Air gains the same powerful GeForce 9400M graphics processor as the aluminum MacBook and the new 15.4" MacBook Pro. It also adds a video port and has more storage - 120 GB on the hard drive version, 128 GB for the solid state drive (SSD).
Here are new and close-out prices from today's MacBook Air price tracker:
1.6 GHz/80, $1,549 shipped
1.6 GHz/120, $1,749 shipped
1.8 GHz/64 SSD, $2,100 plus shipping
1.8 GHz/128 SSD, $2,399 shipped
Again, it's hard to quantify the value of a video port and a "way better" graphics processor. There's no way the additional storage space is worth the difference in price, but there are three factors at work here. For value, I'd choose the 1.6 GHz model with the 80 GB drive and spend part of the $200 difference for an external hard drive.
On the top end, it's harder to say - but then I'm not a likely candidate for SSD at today's prices. This is, after all, Low End Mac.
As for refurbs has the 1.6 GB hard drive model in stock at $1,349, the 1.8 GHz version at $1,399, and the 1.8 GHz SSD one at $2,299 (I expect that one to change). For value, the 1.8 GHz hard drive MacBook Air looks like the winner.
15" MacBook Pro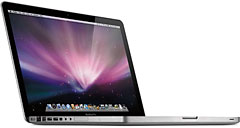 The new MacBook Pro is a very exciting computer in many respects: it's the first MacBook with two graphics processors (GeForce 9600M GT and GeForce 9400M), it's got a new glass trackpad that support 4-finger gestures, and it now has the same backlit keyboard as the MacBook Air. In the negative column, you can no longer get a matte display and there's only one FireWire port (FireWire 800, which is backward compatible with FireWire 400).
As with the other new models, there's a 1066 MHz bus, and the top-end build-to-order option will give you 2.8 GHz of processing power.
Looking at today's 15" MacBook Pro price tracker, we see:
2.4 GHz Penryn, $1,444 shipped, after rebate
2.4 GHz Unibody, $1,999 shipped
2.5 GHz Penryn, $1,644 shipped, after rebate
2.53 GHz Unibody, $2,499 shipped
2.6 GHz Penryn, $2,594 after rebate, shipping additional
2.8 GHz Unibody, $2,799 shipped
The close-out prices on the 2.4 GHz and 2.5 GHz models are seductive - give up the carved aluminum case and GeForce 9400M graphics, and you can save $550 (after rebate) with the 2.4 GHz model. Better yet, the close-out 2.5 GHz model is selling for $850 less (after rebate) than the 2.53 GHz model that replaces it.
As with the other new models, unless you're doing something that's really going to benefit from the GeForce 9400M graphics processor, the 2.4 GHz and 2.5 GHz Penryn models are the way to go. And in terms of processing power per dollar, the 2.4 GHz one has the edge.
And where would we be without Apple refurbs?
2.4 GHz Penryn, $1,349
2.5 GHz Penryn, $1,499
2.6 GHz Penryn, $1,799
Even better values, and no mail-in rebates to hassle with. The 2.4 GHz model is still the performance champion for dollars spent.
17" MacBook Pro
Just like the MacBook White is a retread of an earlier model, the 17" MacBook Pro is essentially the same model introduces in February - but now with its maximum of 4 GB of RAM and a 320 GB hard drive. It's also the one price tracker we didn't update today, as it's the least changed model and the second-least popular MacBook price tracker. (Only the MacBook Air tracker gets less hits, but I expect that to change.)
My guess is that this is a place holder update until Apple can roll out a new design carved from aluminum - and also improvements such as GeForce 9400M graphics, the glass trackpad, and hopefully with a quad-core CPU option as well.
Anyhow, a quick check of the usual sources shows the old 2.4 GHz model (2 GB RAM, 250 GB hard drive) being sold for $1,700 shipped (after mail-in rebate), 2.5 GHz for $2,350, and 2.6 GHz for $2,899. The new 2.5 GHz model is going for $2,799, and the 2.6 GHz version costs $250 more.
Upgrading RAM to 4 GB might cost you $55, leaving a $295 difference between the old 2.5 GHz model and the new one - a lot more than a 500 GB hard drive or a 320 GB 7200 rpm drive is going to cost you. And if you don't need quite that much power, the 2.4 GHz model is a steal.
Join us on Facebook, follow us on Twitter or Google+, or subscribe to our RSS news feed
Dan Knight has been using Macs since 1986, sold Macs for several years, supported them for many more years, and has been publishing Low End Mac since April 1997. If you find Dan's articles helpful, please consider making a donation to his tip jar.
Links for the Day
Mac of the Day: Quadra 605 (Performa 475), introduced 1993.10.18. The least expensive Mac until the $799 iMac gave the LC 68040 power.
Recent Content