2 Useful Online Genealogy Resources
Daniel Knight - 2008.04.02
We've all got ancestors, although many of us would be hard pressed to name any of our great-great grandparents.
I've been dabbling in genealogy on and off for about 20 years, first using Q&A on DOS, later playing with FileMaker Pro on the Mac, and eventually investing in some Family Tree software that's been unused for maybe a decade. This past week I've found two excellent websites that have helped me a lot.
Everyone's Related

The first site is Geni, which uses the catch phrase "everyone's related". I suppose if we could find records going back to 10,000 BC that might be the case, but it is true that everyone has a family tree - and that's what Geni helps you track.
Not only that, but Geni makes it easy to keep in touch with relatives with email, and they in turn can invite their relatives. And all of these relatives can add photos, information, and relatives to an ever-expanding family tree. Every person on the tree has a profile, which can be filled with all sorts of information: date and place of baptism, schools attended, employers, and so on.
At the same time, Geni protects your privacy - only those in your family tree can log into it and see your profile. And the folks behind Geni know about privacy, as they come from a wide range of companies including PayPal, eBay, and Yahoo.
I've been using Geni for less than a week, and it's addictive. I started out with my immediate family, added ancestors I knew about, put in the start for my wife and her family, and then began to Google to expand the family tree.
That was good timing, as the sister of my ex-wife's grandmother passed away on Easter, and her obituary was still available. (For genealogical research, it's a shame that obituaries aren't kept up perpetually.) This let me add a bit to that part of the family tree, as well as cut-and-paste the obituary to her profile.
Google can be a great tool for finding relatives, assuming they don't have popular names - in which case it can be very difficult. The more unusual the name, the better.
Dutch Roots

Part of my family tree, greatly reduced (click for larger, still unreadable version).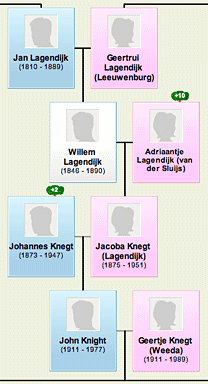 While exploring Google's discoveries, I came across a genealogy website in the Netherlands just chock full of names, many of them ancestors I'd been unaware of. (My parents and grandparents emigrated from the Netherlands circa 1950.) Until then, the oldest ancestors I knew of were Jan Harm Nijenhuis and his wife, Gezina van der Veen, both born circa 1805. I had six generations of ancestors, and these great-great-great grandparents were the only ones I knew of in that generation.
Thanks to Genealogie, I now have over 20 generations in my family tree, with several names going from the 13th and 14th centuries. It's been fascinating crawling up and down the branches of the family tree, adding new names, dates, and places. If you have Dutch roots, especially from the province of South Holland, this is an amazing resource.
Not only that, but it's well designed and pretty responsive. It is in Dutch, but I'm learning the important words, and in addition to having a wealth of names, dates, and places, many profiles also include Google maps showing where an individual lived. (In my case, most of them lived in Hoogvliet, Poortugaal, Rhoon, Vlaardingen, Pernis, Charlois, Spijkenisse, IJsselmonde, and other communities near the Nieuwe Maas river east of Rotterdam.)
My family tree now incluldes over 400 direct ancestors, the majoriy of them in this area.

Map showing communities some of my ancestors live in (click for larger version).
It's been a lot of fun, and I'm trying to limit the amount of time I spend copying names into Geni. As I said, it's very addictive, and it's fascinating watching the tree grow - as well as discovering closed loops (Geni calls them cycles) where two lines merge back to a single family.
Geni is pretty polished, but it's not finished yet. The only significant drawback is that the site is Flash-based, and it's pretty slow even on my 1 GHz dual processor G4. In fact, Flash is so much faster on Intel-based Macs that Geni could help me justify finally making the switch.
You'll also want a big screen. I'm using a 19" 1280 x 1024 display, and I wish it was bigger - especially wider. You may find the 1280 x 800 display on a MacBook adequate, but the 1440 x 900 screen found in the 15" MacBook Pro and 17" iMacs will make you much happier. Better yet the higher resolution screens found on the 17" MacBook Pro and the 20" iMac.
Despite poky speed on older computers, Geni is good enough for getting started, sharing your tree, and watching it grow. Have fun discovering your roots.