The 2007 iMac Value Equation
Daniel Knight - 2007.08.09
Yesterday we compared the value of the new Mac minis to the models they replaced. Today we're looking at the new iMacs.
What's Changed?
The big visual change is that the new iMacs are aluminum and have a black border around their glossy display. Some don't care for it, but I think it's a big improvement over the all white faceplate of recent iMacs. Visually, the aluminum iMacs blend better with the environment, and the black surround makes the screen seem larger and hides the iSight webcam.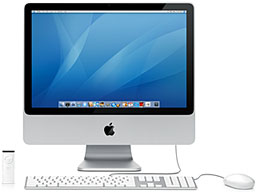 The new iMacs run their processors on an 800 MHz system bus, up from 667 MHz on earlier Intel-based iMacs, and speeds now range from 2.0 GHz up to 2.8 GHz. The new models come with 802.11n WiFi enabled, and all models now include FireWire 800. The SuperDrive is faster with certain types of media, especially dual-layer DVDs. And the keyboard is Apple's new 1/3" thin model.
I had a chance to stop by the local Apple Store yesterday and spend a few minutes with the new iMac (they only had one on display). I'm happy to report that the keyboard has a pretty good feel to it, and the only design flaw I noted is that the USB ports are recessed under the keyboard, which may prevent some thumb drives and other peripherals from plugging in.
There is no longer a 17" iMac, nor is there a model selling for less than US$1,000. With the new iMacs, your choices are big and bigger (20" and 24"), and prices start at US$1,199. 1 GB of RAM is standard, and the maximum is now 4 GB, up from 3 GB. Every CPU has a 4 MB level 2 cache.
The Four Models
The new entry-level iMac has a 20" display and a 2.0 GHz CPU. It incorporates Radeon HD 2400 XT with 128 MB of dedicated video memory and retails at US$1,199 with a 250 GB hard drive.
The faster 20" iMac has a 2.4 GHz CPU, a 320 GB hard drive, and Radeon HD 2600 Pro graphics with 256 MB of memory. It retails for US$1,499.
The "big Mac" (sorry, McDonald's) has a 24" display and otherwise matches the specs of the 20" 2.4 GHz model. It's price is US$1,799.
At the top of the heap is the 2.8 GHz 24" iMac built around an Intel Core 2 Extreme CPU. It comes with 2 GB of RAM and a 500 GB hard drive. It has the same video as the 2.4 GHz models, and it retails for US$2,299.
New vs. Old iMacs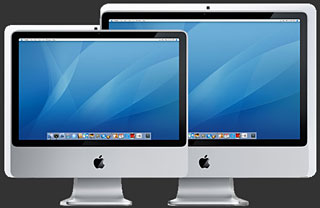 Let's compare that to the old lineup: a 1.83 GHz 17" iMac with Intel GMA 950 video, a 2.0 GHz 17" iMac with Radeon X1600, a 20" 2.16 GHz iMac with the same video, and a 24" 2.16 GHz iMac with Nvidia GeForce 7300GT graphics.
The new aluminum iMacs are a bit smaller than the earlier white iMacs.
There's no point looking at last year's 17" models, as there is no longer a 17" iMac.
20" iMacs
The 20" 2.16 GHz iMac is being blown out for as little as US$1,299. Let's compare it to the new 2.0 GHz and 2.4 GHz models.
The 2.0 GHz 20" iMac is available for as little as US$1,119 after mail-in rebate. It has a faster system bus but an 8% slower CPU. It has improved graphics. And it costs almost 14% less than the 2.16 GHz model it replaces. The new 2.0 GHz iMac is the better value.
Then there's the 2.4 GHz model, which has an 11% faster CPU and even better graphics than the new 2.0 GHz iMac. At US$1,499, it's 15% more expensive than the close-out price on the 2.16 GHz iMac. Considering the bigger hard drive, faster system bus, and better SuperDrive, I'd say they are equal in value.
24" iMacs
The old 24" iMac can be obtained for as little as US$1,699, a $300 drop from its original price.
The 2.4 GHz 24" iMac has an 11% faster CPU, a faster system bus, a faster SuperDrive, and better graphics, all for US$1,694 after mail-in rebate. Kind of a no brainer as to which is the better value. Apple should have trimmed another $100 from the blow out prices.
The big question is whether the 2.8 GHz iMac with the Core 2 Extreme processor is a good value at US$2,194 after mail-in rebate. You get a 17% faster CPU based on clock speed, and the Extreme may have other enhancements as well. You get a bigger hard drive (500 GB vs. 320, a $100 build-to-order option on the 2.4 GHz iMac) and twice as much RAM ($150 more from Apple).
Of course you can save on hard drives and memory by buying them elsewhere, but when you factor in the speed gain, additional RAM, and increased storage space, the 2.8 GHz iMac is nearly as good a value as the 24" 2.4 GHz one.
Refurbs
This is Low End Mac, and we're huge fans of refurbished Macs. You can save a bundle, and you get the same warranty as a brand new Mac. You can even add AppleCare.
The 20" 2.16 GHz iMac is available for US$1,099 refurbished from Apple. Compare that to the 20" 2.0 GHz iMac at $1,119 after rebate, and the older iMac comes out as a slightly better value. Unless you want better graphics for gaming and Leopard. Unless you would benefit from a slightly faster SuperDrive. Unless you might need 4 GB of RAM vs. 3 GB max in the old model.
The 24" 2.16 GHz iMac sells for US$1,449 refurbished - $250 less than the blow out price on new ones. That definitely makes it the better value in terms of processing power - but there are other benefits the new 24" iMacs offer.
Finally, for those looking for a real value, while they're available Apple has refurbished 17" 2.0 GHz iMacs for just US$849. That's the model with Radeon X1600 graphics. It's a hot deal.
In terms of overall value, a refurbished 17" iMac wins hands down, so long as you don't need a bigger display. At the 20" size, the new 2.0 GHz iMac is the best value, and at the 24" size, the 2.4 GHz model comes in second to a refurbished 2.16 GHz iMac.