Apple hit the 1 GHz mark with the Quicksilver 2002 in January 2002 and 1.25 GHz with the Mirrored Drive Door (MDD) in August 2002. Even the entry level 867 MHz Power Mac G4 now has dual processors.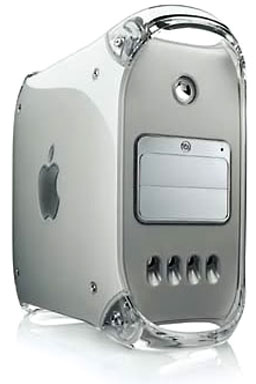 The two faster models introduce a 167 MHz system bus. All models now have two full size media drive bays (so you can have a SuperDrive plus a fast CD burner), four RAM sockets, and three independent drive buses that each support two devices. An Ultra ATA/33 (ATA-4) bus is used for the optical drive(s), Ultra ATA/100 (ATA-6) connects to the stock hard drive, and there's also an unused Ultra ATA/66 (ATA-5) bus. Only the ATA/100 connector supports drives over 128 GB capacity. There are four 3.5″ hard drive bays inside the G4.
Although the MDD Power Macs support up to 2 GB of RAM, Mac OS 9 is only able to recognize up to 1.5 GB of RAM.
Watch out for Apple's claim of "four USB ports" – there are two on the computer and two on the keyboard, just like the old G4s, so with the keyboard plugged in, you only have three available. That drops to two when your mouse is plugged in.
The fastest pair of new G4s have faster video cards, the ATI Radeon 9000. The dual 1.25 GHz model includes 2 MB of level 3 cache per processor, twice as much as the slower models.
You should have the most recent firmware installed in your Power Mac G4. The newest version for Mirrored Drive Doors models is Power Mac G4 Firmware Update 4.4.8, which is only for Mirrored Drive Doors Power Mac. To install this firmware update, you must boot into Mac OS 9.2.2 from a writable partition (not a CD).
Details
Accelerators & Upgrades
Online Resources
Cautions
Short link: http://goo.gl/9h6ArQ
searchword: mddg4