Low End Mac (LEM) began in April 1997 as a way for me to learn Web design and to help Mac users get the most out of their Apple gear. There weren't many online resources yet, and we grew from two dozen profiles to hundreds. LEM began as a hobby, was a full time job for quite a few years, but has reverted to hobby status again. We no longer take in enough from advertising to cover our expenses.
Hosting, Internet access, mobile phone contracts, utilities, insurance, and taxes come to about $800 per month, and often we have to dip into family income to cover Low End Mac's expenses.
We are a community-based service and have a goal of receiving $500 in monthly donations - and lots of you are already helping out. We hope to see several of you join our monthly support team and receive the balance in individual donations to make up the balance (links are on the right).
History of Low End Mac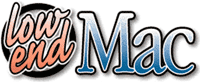 I started to publish LEM full-time in January 2001, when it looked like site income could replace my 9-to-5 job. We've been through several rough patches since then, some good times, and another very rough patch in recent years, forcing me to take a hal-time job in 2009 – and a full-time job in October 2012.
My work schedule gives me less time to work on LEM, and moving to the WordPress content publishing system greatly reduced our exposure on Google search, which is the source of most of our traffic. This has further reduced income since March 2013, when we made the move to WordPress.
Spread the Word
Tell your Mac, iPhone, and iPad using friends what you think of Low End Mac. If you have your own website or blog, consider adding a link to http://lowendmac.com/ If you use Facebook, Twitter, Google +, LinkedIn, or Pinterest, follow us there and share our links with your friends and followers. This should also help improve our Google rank, which is important to building site traffic.
If you run a business and would like to buy ad space on LEM, please contact Backbeat Media.
Spread the Wealth
We accept donations through PayPal, Chase QuickPay, Dwolla, and snail mail. This year's goal is $3,000 in one-time donations before the end of 2013 and $500 in monthly support. This will cover our deficit for 2013 and help lay the groundwork for a successful 2014.
PayPal

 is the most popular method for donating funds to Low End Mac. You can use the Donate and Subscription buttons on the right to make a one-time donation or sign up to support us monthly.

Another option is Chase QuickPay, which requires that you have a US bank account and either a mobile phone number or a valid email address. You can send money using the Web or with the Chase Mobile iOS app (Android and Blackberry apps also available). Reference the email address (praying it won't get spammed), and Chase will notify you when we have received your donation. And unlike PayPal, there are no fees. (You do not need to have a Chase account to use QuickPay.)
A fairly new option is Dwolla, a one-to-one payment system. Money can transfer directly between Dwolla accounts, between bank accounts, and between a Dwolla account and a bank account. Money transfers in a flash (it takes 3-4 business days to move PayPal funds to your bank account). Dwolla is free for transactions under $10; there is a 25¢ fee for transactions $10 and above – a bit more than Chase, but cheaper than PayPal, which takes one-third of a $1 donation. Our Dwolla ID is 812-572-0170.
If you prefer not to send funds electronically, you can mail donations to Cobweb Publishing, Inc, 215 Ivanhoe Ave NE, Grand Rapids, MI 49546.
Shop Online
Please click on some of the ads and affiliate links on our site and learn more about the businesses that support Low End Mac.
If you sign up for eBay via this link, we will also receive a small fee.
Yet another way to help is through affiliate programs. If you shop through any of the following links, the vendor will recognize that your purchase came through Low End Mac and send a small fee our way.
Thank you for your support.
Dan Knight, publisher, Low End Mac
Short link: http://goo.gl/yqqsRr
searchwords: lemsupport, supportlem