Clear Macintosh SE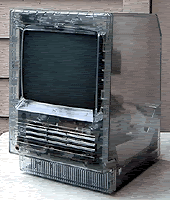 As documented by Charlie Springer on his web page, the SE in a clear plastic casing is a very rare find. Only a small number (reportedly 20) of transparent cases were made from the case molds before they were textured - and only 10 of these were built into working computers.
The clear SE was never sold by Apple; it used as a promotional item for SE team members. The one in the photo was acquired from an engineer who received two of these nearly unique computers. (This one was for sale when we first published this article. If you'd like to know if it's still available, contact charlie (at) regnirps (dot) com or visit his page for more information.)
Looking at this today, I can't help but wonder if this in some way planted the seed that grew into the iMac's translucent casing.
The owner of the unit pictured here has gorgeous art prints available for those who could never afford to own the actual computer.
Go to the SE page or the Compact Mac index.
Custom Search
Follow Low End Mac on Twitter
Join Low End Mac on Facebook
Low End Mac Reader Specials
Favorite Sites
MacSurfer
Cult of Mac
Shrine of Apple
MacInTouch
MyAppleMenu
InfoMac
The Mac Observer
Accelerate Your Mac
RetroMacCast
PB Central
MacWindows
The Vintage Mac Museum
Deal Brothers
DealMac
Mac2Sell
Mac Driver Museum
JAG's House
System 6 Heaven
System 7 Today
the pickle's Low-End Mac FAQ
Affiliates
Amazon.com
The iTunes Store
PC Connection Express
Macgo Blu-ray Player
Parallels Desktop for Mac
eBay

Advertise