17″ iMac G4/1.25 GHz (USB 2.0)
The first iMac to reach 1.25 GHz, the 17" G4 iMac has a wide aspect ratio "cinema" type screen and displays 1440 x 900 pixels - just perfect for DVDs. Along with the 1.0 GHz 15" model, it's the first iMac to support USB 2.0.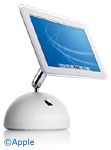 Details
introduced 2003.09.08 at US$1,799
requires Mac OS X 10.2 through 10.5.x
CPU: 1.25 GHz G4
bus: 167 MHz
performance:
RAM: 256 MB, expandable to 2 GB using PC2700 (333 MHz) DDR SDRAM (officially supported to 1 GB by Apple)
Graphics: Nvidia GeForce 5200 Ultra with AGP 4x support
VRAM: 64 MB
screen: 17" 1440 x 900 flat panel display
video out: Mini VGA port for video mirroring, requires VGA adapter
L2 cache: 256 KB on-chip cache running at full CPU speed
hard drive: 80 GB 7200 rpm UltraATA/100 drive
SuperDrive: 4x DVD write, 8x DVD read, 16x CD-R write, 8x CD-RW write, 32x CD read
USB: 3 USB 2.0 ports
FireWire 400: 2 ports
modem: built-in 56 kbps modem supports v.92 standard
ethernet: 10/100Base-T
WiFi: optional 802.11g AirPort Extreme
Bluetooth: optional
Microphone: internal
power: 130W
PRAM battery: 3.6V half-AA
height: 13.03-20.0 in/33.1-50.9 cm
width: 16.7 in/42.3 cm
depth: 10.6-16.7 in/27.0-42.3 cm
weight: 22.8 lb/10.4 kg
Part no.: M9168
machine ID: PowerMac6,1
Upgrades
8x SuperDrive DVD±RW upgrade, MCE Technologies, $149. 8x4x12x DVD, 24x24x40x CD. 2 MB buffer. Must be installed by MCE or an MCE authorized upgrade center.
Online Resources
Go to the iMac and eMac index.