iMac Core Duo (Early 2006)
Apple has begun referring to this model as the iMac (Early 2006), but we're calling it the iMac Core Duo. Maybe we'll switch to Apple's nomenclature when the next generation is released....
Three months ago Apple introduced an updated iMac G5 - slimmer, lighter, and a bit faster, with iSight built in and sporting a remote control. Now Apple has replaced it with essentially the same computer, but this time with an Intel Core Duo CPU instead of a single-core PowerPC G5.
Intel-based Macs use a partitioning scheme known as GPT. Only Macintel models can boot from GPT hard drives. Both PowerPC and Intel Macs can boot from APM (Apple's old partitioning scheme) hard drives, which is the format you must use to create a universal boot drive in Leopard. PowerPC Macs running any version of the Mac OS prior to 10.4.2 cannot mount GPT volumes. PowerPC Macs won't let you install OS X to a USB drive or choose it as your startup volume, although there is a work around for that.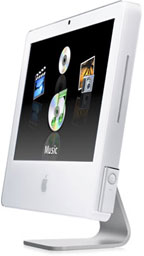 There was a lot of debate about which model would be the first with Intel inside, and the iMac seems like a good choice. The Core Duo processor offers 2-3x the power of the G5, and it would be unseemly for the Mac mini to outperform the iMac. Which raises the question - will the new Intel iMac outperform the Power Mac G5 Dual?
There had also been speculation of an Intel-based iBook, but Apple would never ship a consumer model more powerful than their "pro" one.
The only things that seem to be missing are FireWire 800, which Apple still reserves for their "pro" models and has never yet put on an iMac, and AppleWorks, a product Apple has bundled with every previous iMac. This is the first iMac ever to officially support monitor spanning.
The new iMac ships with Mac OS X 10.4.4, the first universal binary version of the Mac OS, and iLife '06, which is also a universal binary.
Details
introduced 2006.01.10 at US$1,299 (17" 1.83 GHz) and US$1,699 (20" 2.0 GHz); replaced 2006.09.06 by iMac Core 2 Duo. Education-only 17" model with Combo drive introduced 2006.07.05.
requires Mac OS X 10.4.4 Tiger to 10.6 Snow Leopard; not compatible with OS X 10.7 Lion
Mac OS X 10.6 Snow Leopard compatibility

Grand Central Dispatch is supported.
64-bit operation is not supported with Core Solo or Core Duo CPUs. Upgrading with a Core 2 Duo CPU will not change that.
OpenCL is not supported with Radeon X1600 GPU.

CPU: 1.83/2.0 GHz Intel Core Duo, Socket M makes upgrades possible
bus: 667 MHz
performance:

Geekbench 2 (Leopard): 2473 (2.0 GHz), 2304 (1.83 GHz)
Geekbench 2 (Tiger): 2519 (2.0 GHz), 2335 (1.83 GHz)

RAM: 512 MB, expandable to 2 GB using two PC2-5300 DDR2 SODIMMs
Graphics: ATI Radeon X1600 with PCI-Express support, supports up to 23" external display and monitor spanning
VRAM: 128 MB GDDR3 SDRAM (expandable to 256 MB on 20" model)
screen:

17" 1440 x 900 flat panel display
20" 1680 x 1050 flat panel display

video out: mini-DVI, VGA, S-video, composite (requires adapter)
L2 cache: 2 MB shared cache on CPU
hard drive bus: 1.5 Gbps SATA I
hard drive: 160/250 GB 7200 rpm Serial ATA drive
optical drive bus: UltraATA
SuperDrive: writes DVD±R discs at up to 8x speed, dual layer at up to 2.4x; DVD±RW at up to 4x; reads DVDs at up to 8x, writes CD-R discs at up to 24x, writes CD-RW discs at up to 8x, reads CDs at up to 24x
USB: 3 USB 2.0 ports
FireWire 400: 2 ports
Optional 56 kbps USB modem supports v.92 standard
ethernet: 10/100/gigabit
WiFi: 802.11g AirPort Extreme included
Bluetooth 2.0: included
IR receiver: supports Apple Remote (included)
Microphone: internal
power: 180W
H x W x D (17"): 16.9 x 16.8 x 6.8 in/43 x 42.6 x 17.3 cm
H x W x D (20"): 18.6 x 19.4 x 7.4 in/47.2 x 49.3 x 18.9 cm
weight (17"): 15.5 lb/7 kg
weight (20"): 22 lb/10 kg
Part no.: MA199 (17"), MA200 (20")
machine ID: iMac4,1
Upgrades
Online Resources
Go to the iMac and eMac index.