iMac G5 (2004)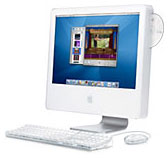 Where did the computer go? Behind the flat panel display in the new iMac G5! And the mouse and keyboard are available as wireless models with Bluetooth (which remains optional) - that means less cable clutter than most users are used to. Do note that the internal Bluetooth module can only be installed at the factory.
Not just smaller and lighter, the iMac G5 is also quieter than the iMac G4 - by 25 dB! And for those who want to save more desktop space, the iMac G5 works with industry standard (VESA compliant) arms for mounting on the wall, a swing-away arm, etc.
Note that models sold in North America and Japan are single voltage, while those sold in the rest of the world support both 110 and 220 volt current.
Details
introduced 2004.08.31 at US$1,299 (17" 1.6 GHz Combo), $1,499 (17" 1.8 GHz SuperDrive), and US$1,899 (20" 1.8 GHz SuperDrive). Discontinued 2005.05.03; replaced by 1.8/2.0 GHz iMac G5 (2005)
requires Mac OS X 10.3 through 10.5.x
CPU: 1.6/1.8 GHz G5
bus: 533/600 MHz
performance:

Geekbench 2 (Leopard): 882 (1.8 GHz), 826 (1.6 GHz)
Geekbench 2 (Tiger): 1050 (1.8 GHz), 862 (1.6 GHz)

RAM: 256 MB, expandable to 2 GB using PC3200 (400 MHz) DDR SDRAM
Graphics: Nvidia GeForce FX 5200 Ultra with AGP 8x support
VRAM: 64 MB DDR SDRAM
screen:

17" 1440 x 900 flat panel display
20" 1680 x 1050 flat panel display

video out: VGA, S-video (requires adapter)
L2 cache: 512 KB on CPU
hard drive bus: 1.5 Mbps SATA I
hard drive: 80/160 GB 7200 rpm Serial ATA drive
optical drive bus: UltraATA
Combo Drive: reads DVDs at up to 8x speed, writes CD-R discs at up to 24x, writes CD-RW discs at up to 16x, reads CDs at up to 24x
SuperDrive: writes DVD-R discs at up to 4x speed, reads DVDs at up to 8x, writes CD-R discs at up to 16x, writes CD-RW discs at up to 8x, reads CDs at up to 24x
USB: 3 USB 2.0 ports
FireWire 400: 2 ports
modem: built-in 56 kbps modem supports v.92 standard
ethernet: 10/100Base-T
WiFi: optional 802.11g AirPort Extreme
Bluetooth: optional
Microphone: internal
power: 130W
H x W x D (17"): 16.9 x 16.8 x 6.8 in/43 x 42.6 x 17.3 cm
H x W x D (20"): 18.6 x 19.4 x 7.4 in/47.2 x 49.3 x 18.9 cm
weight (17"): 18.5 lb/8.4 kg
weight (20"): 25.2 lb/11.4 kg
Part no.: M9248 (17" 1.6 GHz), M9249 (1.8 GHz), M9250 (20")
machine ID: PowerMac8,1
Upgrades
Online Resources
Go to the iMac and eMac index.