Appendix 4
Starting a Presentation in AppleWorks
2001.01.04 -
This short appendix is not a tutorial on how to make presentations on the computer, but rather how to get one started in AppleWorks 5. AppleWorks 5 has the ability to take almost any document and turn it into a full-screen, menuless display, but the functions are hidden. There are also some built-in presentation templates and tutorials, but if you're like me (site license with no manual) they're kind of hard to find.
AppleWorks 6 solves most of these problems by making presentations one of the major document type choices when you begin using the program.
When you start AppleWorks, you get the usual splash screen. Instead of picking "Create New Document," pick the radio button for "Use Assistant or Stationery" instead.
To use Stationery pick "All Stationery" from the Category drop down menu, where you can find "Presentation Index" down the list as shown here.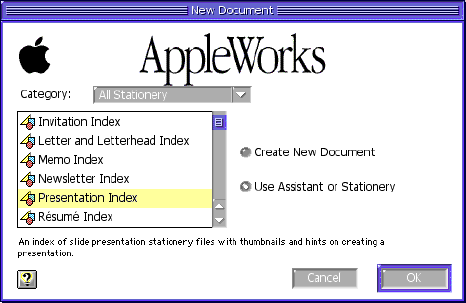 Opening this gives you access to stationery templates for several kinds of presentations which you can then edit.
Alternatively, you could pick the presentation assistant from the Category drop down menu, which gives you a presentation assistant down towards the bottom of the list :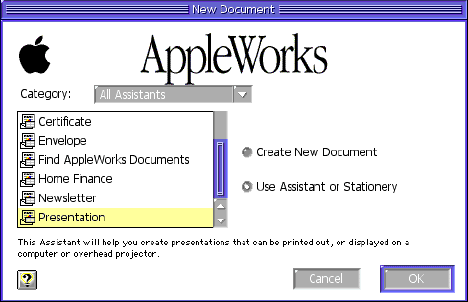 This option walks you through some basic choices about what you want the presentation to look like.
Both options leave you with a partially completed presentation which you must edit slide by slide. The display options for the slide show are limited compared to PowerPoint, and basically consist of Fade and Not Fading.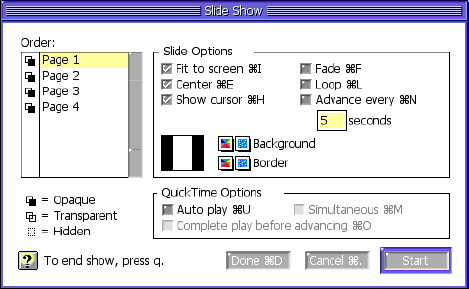 A couple of other points and then you're on your own. These are based on difficulties my own students have had using AppleWorks for presentations.
Remember, AppleWorks makes presentations by displaying other document types on the screen without a menu. So a database, word processor, drawing or painting can be a slide show.
If you want to make a database presentation, then insert fields on the screen, you can approximate PowerPoint's ability to type an outline and then let the screen layout handle the arrangement of the letters.
If you make a drawing a slide presentation, you will only be able to edit the number of pages using the Document command from the Format menu which includes the number of pages control shown here: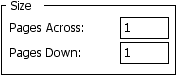 As for the content of the presentation, you're on your own. Happy Presenting!

<go back to TV scan converters vs. projectors>
Join us on Facebook, follow us on Twitter, use our Google+ page, or read our RSS news feed
is a longtime Mac user. He was using digital sensors on Apple II computers in the 1980's and has networked computers in his classroom since before the internet existed. In 2006 he was selected at the California Computer Using Educator's teacher of the year. His students have used NASA space probes and regularly participate in piloting new materials for NASA. He is the author of two books and numerous articles and scientific papers. He currently teaches astronomy and physics in California, where he lives with his twin sons, Jony and Ben.< And there's still a Mac G3 in his classroom which finds occasional use.
Recent Mac Lab Reports
Links for the Day
Recent Content on Low End Mac
Recent Deals