The 2009 iMac Value Equation
Dan Knight - 2009.03.04 (updated) - Tip Jar
Apple is doing things differently these days. Last October, it overhauled almost the entire notebook line, and now it's done the same thing to its desktops. The days of a few new Macs here, a few new ones there may be behind us.
The Mac mini had gained Nvidia GeForce 9400 graphics, and the entry-level model now sports a SuperDrive. The Mac Pro is more awesome than ever with its new Nehalem CPUs. And the iMac line has seen its share of changes as well.
Across the board, every current Mac ships with an Intel CPU and Nvidia GeForce graphics by default, although there are a couple of ATI Radeon build-to-order options. The 2009 iMac comes in two sizes (20" and 24") and three speeds (2.66, 2.93. and 3.06 GHz). We can divide them into two pairs that share a lot of features - the 2.66 GHz iMacs and the faster ones.
Before we go any further, we want to mention the passing of FireWire 400, a Mac standard for nearly a decade. It's finally been supplanted by FireWire 800, and using FireWire 400 devices only requires the right FireWire 800-to-400 cable or adapter. (All Macs except for the MacBook Air and Unibody MacBook have FireWire, and the MacBook White is the only current Mac that still has FireWire 400.)
The CPUs in the new iMacs are the latest tweak to the Intel Core 2 Duo architecture.
About the Keyboard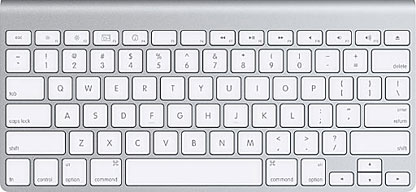 Before we go any further, we want to let you know about the new USB keyboard that ships with new iMacs by default. For the first time, a desktop Mac is shipping with a keyboard that doesn't have a numeric keypad. The new keyboard has the same layout as Apple's wireless keyboard (and Apple's notebooks), but with two USB 2.0 ports.
For those who want the traditional layout with a numeric keypad, full-size arrow keys, and the other navigation keys, Apple now offers the Apple Keyboard with Numeric Keypad, which you can swap for free when buying your iMac from Apple. And for those who want the new compact USB keyboard, it's available for $49.
2.66 GHz iMacs
There is only one 20" iMac - it runs at 2.66 GHz and retails for US$1,199. It ships with 2 GB of RAM and supports up to 8 GB, and it has the same Nvidia GeForce 9400M graphics found in almost every Mac this side of the Mac Pro, and it used 256 MB of system memory for graphics. The standard hard drive is 320 GB. All of the new iMac have a 6 MB level 2 (L2) cache and use 1066 MHz DDR3 memory.
The entry-level 24" iMac also runs at 2.66 GHz and retails for $1,499. It includes 4 GB of RAM and a 640 GB hard drive.
Faster iMacs
The 2.93 GHz and 3.06 GHz iMacs are also 24" models, and they also include 4 GB of RAM standard. The 2.93 GHz model has a 640 GB hard drive by default, while the 3.06 GHz iMac has a 1 TB drive.
Both of these models use Nvidia GeForce GT graphics with dedicated video RAM. The 2.93 GHz iMac has GT 120 graphics with 256 MB of VRAM, and the 3.06 GHz iMac has GT 130 graphics and 512 MB of VRAM. ATI Radeon HD 4850 graphics is a $50 build-to-order option.
The 2.93 GHz iMac retails for $1,799, and the 3.06 GHz model at $2,199.
Out with the Old
Apple has the previous generation of iMacs available in its clearance section:
20" 2.4 GHz, $999
24" 2.8 GHz, $1,399
We expect other dealers will be offering their remaining inventory at similar prices.
The Entry Level
Some of us still miss the 17" iMacs, but 20" is today's entry level. Based on early Geekbench results, the 2.66 GHz 2009 iMac has as much processing power as the 2.66 GHz 2008 iMac. Compare that to the 2.4 GHz model that ships with only 1 GB of RAM, and it's pretty clear that the new model is worth $200 more than the old one in terms of processing power. However, the 2008 iMacs all have discrete GPUs with dedicated video memory, which should make them a better choice for gamers than the new 2.66 GHz iMacs.
If price is an absolute consideration, you'll be happy with the 2008 model, but the other improvements justify the modest difference in price between last year's model and the new one.
24" 2.66 GHz
The 2008 24" 2.8 GHz iMac is going for $1,399 with 2 GB of RAM and ATI Radeon HD 2600 Pro graphics. For just $100 more you get the new 2.66 GHz model that benchmarks at 4.5% slower, has twice the base RAM, and includes GeForce 9400M graphics, and it's hard to justify the close-out price unless you're a gamer, in which case the dedicated graphics of the 2.8 MHz iMac would make it the better choice.
Higher up the food chain, Geekbench shows the new 2.93 GHz iMac has almost as much power as the old 3.06 GHz one. (There are no test results for the new 3.06 GHz iMac yet.)
Value to Spare
Between the Mac mini's adoption of Nvidia graphics, the Mac Pro's adoption of Nehalem CPUs, and the iMac's move to Nvidia graphics, the new desktop Macs have value to spare - and their power will really be unleashed when Mac OS X 10.6 "Snow Leopard" ships later this year.
Join us on Facebook, follow us on Twitter or Google+, or subscribe to our RSS news feed
Dan Knight has been using Macs since 1986, sold Macs for several years, supported them for many more years, and has been publishing Low End Mac since April 1997. If you find Dan's articles helpful, please consider making a donation to his tip jar.
Links for the Day
Custom Search
Follow Low End Mac on Twitter
Join Low End Mac on Facebook
Favorite Sites
MacSurfer
Cult of Mac
Shrine of Apple
MacInTouch
MyAppleMenu
InfoMac
The Mac Observer
Accelerate Your Mac
RetroMacCast
The Vintage Mac Museum
Deal Brothers
DealMac
Mac2Sell
Mac Driver Museum
JAG's House
System 6 Heaven
System 7 Today
the pickle's Low-End Mac FAQ
Affiliates
Amazon.com
The iTunes Store
PC Connection Express
Macgo Blu-ray Player
Parallels Desktop for Mac
eBay

Advertise