The 2009 Mac mini Value Equation
Dan Knight - 2009.03.04 (updated) - Tip Jar
A funny thing happened as Intel made its CPUs more efficient - Apple has been introducing models with slower clock speeds but more processing power than the models they replaced.
Remember the 2.1 GHz MacBook White from 2008? It was replaced by the 2.0 GHz MacBook White earlier this year. That's a 5% drop in clock speed, yet the Xbench CPU rating rose from 95.25 to 106.62 - a 12% improvement!
On the Mac Pro front, the 2008 Mac Pro started a 2.8 GHz with one or two quad-core CPUs. The 2009 version? You can buy it with a single 2.66 GHz quad-core "Nehalem" CPU or two 2.26 GHz ones. I haven't seen any benchmarks yet, but it stands to reason that Apple wouldn't introduce a more expensive "entry level" Mac Pro with less power than its predecessor.
The New Mac mini
Based on early Geekbench results, the CPU in the 2009 Mac mini appears to be about 7% more powerful, even though it runs at the same 2.0 GHz speed as the top-end 2007 model. And it's now on a 1066 MHz bus, a big step up from 667 MHz. Much to the disappointment of upgraders, the CPU is soldered in place.
But that's just the tip of the iceberg. When the MacBook moved to the more efficient CPU, it also adopted Nvidia GeForce 9400M graphics to replace the Intel X3100 graphics of the previous generation. Xbench reports that OpenGL performance is roughly five times what it was. And the Mac mini was using the even older Intel GMA 950 graphics, so the improvement from going Nvidia should be even more impressive.
For the first time ever, Apple is selling an Intel-based Mac mini that needn't use matching memory modules. If you buy the top-end model, it has two 1 GB modules, but the low-end model uses a single 1 GB module. That means you can expand memory a stick at a time, and at the low-end it also means you don't have to remove a module to add another one. That's value.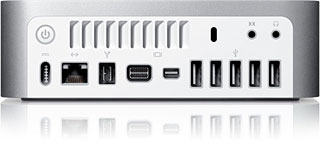 Although it's disappointing to lose FireWire 400, Apple is making the move to FireWire 800 across the line. All you need is a FireWire 800-to-400 adapter or cable to connect your old FireWire peripherals and camcorders. That's a small price to pay for the performance benefits of FireWire 800.
Apple also improved WiFi performance - the new Mac mini finally gets 802.11n wireless networking.
Apple did something smart when it moved the Mac mini from PowerPC to Intel - it doubled the number of USB 2.0 ports, making it a bit more likely that you wouldn't need to buy a USB hub. With the addition of a fifth USB port on the new model, it's even more likely you can avoid that expense.
Apple is also billing the Mac mini as the most energy efficient desktop computer. It only uses 13W when idling, 45% less than the old model.
More Video Options
The new Mac mini is the first one with two video ports - Mini-DVI plus the new Mini DisplayPort. That means you can connect two monitors. Apple says:
"Extended desktop and video mirroring: Simultaneously supports up to 1920 by 1200 pixels on a DVI or VGA display; up to 2560 by 1600 pixels on a dual-link DVI display using Mini DisplayPort to Dual-Link DVI Adapter (sold separately)"
That's perfect for connecting the Mac mini to a nearby display and a projector, connecting it to a computer monitor and your high-def TV, or just using side-by-side monitors for the extra workspace. It's the first time the Mac mini has supported this, and it should make it very attractive to power users still wed to their Power Macs with dual monitors.
The Mac mini uses system memory for video - it ties up a 128 MB on the 1 GB model, 256 MB on any configuration with 2 GB or more.
Is the Mac mini Overpriced?
Before we go any further, let's answer the question so many online pundits are answering in the negative: Is the Mac mini overpriced?
If you only compare specifications of Macs vs. Wintel PCs, Macs are overpriced. You can buy cheaper notebooks, and you can buy cheaper entry-level desktops, and in American culture, we love saving money.
You can probably buy a cheap Windows PC like the Dell Inspiron 530s for $279, and its specs seem to run circles around the Mac mini - 16x SuperDrive, 2.2 GHz CPU, 2 GB RAM, 320 GB hard drive, Vista Home Basic, a mouse, and a keyboard. It has Intel X3100 integrated graphics, so that's one place where the 2009 Mac mini wins on specs.
Let's configure the 530s to match the mini: Replace the single-core Celeron with a Core 2 Duo CPU for an additional $140 (dual-core Pentium is only $90, but that's outdated technology). Upgrade to Vista Home Premium - $30 more. Add the ATI Radeon 3450 video card, Dell's only graphics card option for the 530s, for another $60. Then we'll add the $40 Bluetooth, $30 802.11g WiFi (there is no 802.11n option), and $30 FireWire 400 options, as these are standard Mac features.
Finally, we'll need to add $20 for speakers, something Apple has built into every Mac ever made. That brings us to $659 to pretty much match what the Mac mini has. And then there's $35 for ground shipping, which Apple does for free, bringing us to $694.
We end up with a decent home computer with a bit more processing power than the Mac mini, a slightly stripped version of Windows, probably inferior graphics to GeForce 9400M, and external speakers to clutter up your desk. It has the same amount of RAM and hard drive capacity as the $799 Mac mini.
What do you get for the extra $100? The smallest, most energy efficient, and possibly quietest desktop computer from any major vendor. Mac OS X 10.5 (Apple doesn't sell a stripped "home" version) and iLife '09. No need to mess with antivirus, antispyware, etc. software. Dual-monitor support. Five USB 2.0 ports. FireWire 800. An aesthetically pleasing design.
Neither system is priced with a monitor. Assuming you have a display, mouse, and keyboard, you're paying 17% more for the Mac mini than for a cheap, ugly Dell with a scaled back version of Windows.
Yes, the Mac mini may cost a bit more than a cheap, low-end Windows PC, but almost anyone who has ever used a Mac would agree that paying a $100 premium for Apple quality and the Mac experience is worth it.
Macs are a bit more expensive. So are Toyotas and Hondas in comparison to "cheap" brands of cars. But a premium product is worth a bit more. That's where long-term value comes into play, and that's why Macs, although a bit more costly, are not overpriced.
Not even the $599 and up Mac mini.
Differences
There's an extensive list of differences between the 2007 and 2009 Mac mini:
more efficient CPU
faster clock speed on entry-level model
first Mac mini with faster CPU option ($150 for 2.26 GHz)
faster memory bus
higher maximum RAM (4 GB vs. 2 officially, 3 unofficially)
higher capacity hard drives
improved graphics
dual-monitor support
five USB 2.0 ports vs. four
FireWire 800 replaces FireWire 400
more energy efficient
In short, the 2009 Mac mini has it all over the previous model in terms of features.
Value of the 2007 Mac mini
Apple is clearing out the old models at $499 (1.83 GHz, 1 MB RAM, 80 GB hard drive, Combo) and $549 (2.0 GHz, 1 MB RAM, 120 GB hard drive, SuperDrive), and other dealers are beginning to list the same thing.
If your top priority is minimizing expense, the 1.83 GHz model for $499 makes sense - but only if that's your top priority. For just $50 more, the SuperDrive model gives you a SuperDrive so you can burn DVDs, 40 GB more storage space, and almost 10% more processing power. If you can swing it, it's easily worth the extra $50.
Value of the 2009 Mac mini
The new entry-level Mac mini easily beats the previous top-end one - just look at the bullet points above. Maybe 15% more processing power, vastly better graphics, one more USB port, FireWire 800, two video ports, with the same amount of RAM and hard drive space for just $50 more. No-brainer - this is the value champion!
For $200 more, the top-end mini gives you 200 MHz more hard drive space and 1 GB of additional memory. That RAM is worth $30, and you can buy a 320 GB Toshiba drive for $63. If you're not comfortable upgrading your computer, it's probably worth the $100 premium to have everything right there out of the box, but if working inside a computer doesn't frighten you, you can save over $100 by doing it yourself - or spend a bit more for more memory and a bigger hard drive.
All things considered, the new entry-level Mac mini is the hands-down value champion. See our Best Mac mini Deals for current prices.
Join us on Facebook, follow us on Twitter or Google+, or subscribe to our RSS news feed
Dan Knight has been using Macs since 1986, sold Macs for several years, supported them for many more years, and has been publishing Low End Mac since April 1997. If you find Dan's articles helpful, please consider making a donation to his tip jar.
Links for the Day
Mac of the Day: 14" 600 MHz iBook G3, introduced 2002.01.07. The first 14" iBook ran at a comfortable 600 MHz.
Recent Content
Custom Search
Follow Low End Mac on Twitter
Join Low End Mac on Facebook
Favorite Sites
MacSurfer
Cult of Mac
Shrine of Apple
MacInTouch
MyAppleMenu
InfoMac
The Mac Observer
Accelerate Your Mac
RetroMacCast
The Vintage Mac Museum
Deal Brothers
DealMac
Mac2Sell
Mac Driver Museum
JAG's House
System 6 Heaven
System 7 Today
the pickle's Low-End Mac FAQ
Affiliates
Amazon.com
The iTunes Store
PC Connection Express
Macgo Blu-ray Player
Parallels Desktop for Mac
eBay

Advertise