The June 2009 15" MacBook Pro Value Equation
Dan Knight - 2009.06.11 - Tip Jar
Apple overhauled its entire notebook line this week, with the exception of the MacBook White, which was just updated in May. The biggest change is that the 13" Unibody MacBook has gained FireWire and an SD Card slot while adding "Pro" to its name.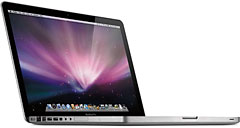 The 15" MacBook Pro has the widest range of speed options ever: 2.53, 2.66, and 2.8 GHz, plus a 3.06 GHz build-to-order option. Like the 13" MacBook Pro, it gains a built-in SD Card slot and a built-in battery with a 7 hour rating - 40% more than the 5 hour battery in the previous Unibody MacBook Pro. The SD Card comes at a price, however - the ExpressCard slot is gone.
Every version of the 15" MBP has Nvidia GeForce 9400M graphics, and the 2.66 GHz and faster models also offer the more powerful GeForce 9600M GT graphics processor, along with 256 MB or 512 MB of dedicated video memory. At US$1,699, the 2.53 GHz MacBook Pro is the least costly 15" 'Book Apple has ever offered.
As before, there is no longer a matte/anti-glare screen option.
We updated our
15" MacBook Pro price tracker
today. Here are the best deals on the new and just-discontinued models:
2.4 GHz Unibody, $1,500 shipped
2.53 GHz Unibody, $1,750
2.66 GHz Unibody, $1,999 shipped
2.53 GHz June 09, $1,579 shipped
2.66 GHz June 09, $1,799 shipped
2.8 GHz June 09, $2,089 shipped
The big differences in features are:
the new 2.53 GHz model does not have GeForce 9600 graphics; the others do
the June 2009 models support 8 GB of RAM, the others 6 GB
the built-in battery is rated at 7 hours, while the battery in the October 2008 models is 4.5-5 hours
the new 15" MacBook Pros have an SD Card reader built in
Unless you need better graphics than the GeForce 9400M offers, the new 2.53 GHz model is the hands-down winner. For under $1,600 you can own a brand new, current 15" MacBook Pro with a 7 hour battery. I suspect this is going to be a hot seller, as it essentially provides a 15" equivalent to the 13" MacBook Pro - but with a 1440 x 900 display.
If you're on a tight budget and need GeForce 9600 graphics, the $1,500 close-out price on the 2.4 GHz Unibody is very attractive - and it saves you $80 over the new entry-level MBP.
I can't really see a compelling reason to choose the October 2008 2.66 GHz model when the June 2009 one at the same speed with the same graphics and with a longer life battery sells for $200 less.
In terms of features and performance per dollar spent, top honors go to the new 2.53 GHz model with no GeForce 9600 graphics. Next in line is the June 2009 2.66 GHz model, which has a lot to offer vs. the $1,750 blow-out price on the discontinued 2.53 GHz MBP.
New vs. Refurbished
Apple has an inventory of October 2008 models available as refubs:
2.4 GHz Unibody, $1,349, Apple
2.53 GHz Unibody, $1,449, Apple
2.8 GHz Unibody, $1,699, Apple
At these prices, they are competitive with the new models. Bang for the buck, the 2.53 GHz Oct. 2008 model seems to be the winner, but they are all nicely priced - much better than the close-out prices being offered by other dealers.
Because of the differences in features, outlined above, and the significant difference in price, it's difficult to compare these with the new models. In general, I would say that they are similar in value, so your choice should boil down the what's important to you - absolute lowest price, built-in vs. replaceable battery, etc.
New vs. Used
Here are some current prices on used 15" MacBook Pro models, some going back to the original Core Duo model introduced three years ago:
1.83 GHz Core Duo, $849 shipped
2.0 GHz Core Duo, $900
2.16 GHz Core Duo, $995 shipped
2.33 GHz Core 2, $1,100
2.4 GHz Core 2, $1,295 shipped
2.6 GHz Core 2, $1,400
We've only seen about a 50% increase in clock speed over those three years, although there have been other improvements that make the newer CPUs more efficient. Also, there's the fact that Core Duo processors can't support 64-bit computing, which is coming into its own with Snow Leopard.
For those who don't need more than 2-3 GB of RAM, those old 15" Core Duo models are a very affordable way to buy a midrange MacBook Pro, with the 2.0 GHz model providing the best cost-benefit ratio. The 2.33 GHz Core 2 Duo model is an even better value with over 20% more processing power and 64-bit support. The used 2.4 GHz and 2.6 GHz models are too close to refurbished Unibody prices to be compelling.
In the end, it's all a matter of what meets your needs and fits your budget. The 15" MacBook Pro has a very usable amount of screen space for getting work done, and with the new entry-level model, the midsized MBP is bound to sell better than ever.
Join us on Facebook, follow us on Twitter or Google+, or subscribe to our RSS news feed
Dan Knight has been using Macs since 1986, sold Macs for several years, supported them for many more years, and has been publishing Low End Mac since April 1997. If you find Dan's articles helpful, please consider making a donation to his tip jar.
Links for the Day
Mac of the Day: 17" iMac G4 (Mid 2002), introduced 2002.07.17. The iMac grows up with a 17" 1440 x 900 display.
Recent Content
Custom Search
Follow Low End Mac on Twitter
Join Low End Mac on Facebook
Favorite Sites
MacSurfer
Cult of Mac
Shrine of Apple
MacInTouch
MyAppleMenu
InfoMac
The Mac Observer
Accelerate Your Mac
RetroMacCast
The Vintage Mac Museum
Deal Brothers
DealMac
Mac2Sell
Mac Driver Museum
JAG's House
System 6 Heaven
System 7 Today
the pickle's Low-End Mac FAQ
Affiliates
Amazon.com
The iTunes Store
PC Connection Express
Macgo Blu-ray Player
Parallels Desktop for Mac
eBay

Advertise