Make Your Own Mac Video Surveillance System on the Cheap
- 2005.11.22 - Tip Jar
This week it's Mac security time. But I'm not talking about network security; I'm talking about physical security.
What good is it to have the most secure OS and best firewalls if anyone can simply come in and steal your Mac.
That's why it's good to lock all your doors and windows, but sometimes even that isn't good enough. Don't worry, the solution to this problem lies right there in front of you - your Mac.

I'm going to teach you how to setup a home surveillance system using your modern or older Mac.
Before I start I will show you my current Mac Video Surveillance System (MVSS). From top to bottom:
Old Multilite Black and white Monitor
Sharp VHS VCR
Apple keyboard and mouse
Bay Networks 8-port hub
Cheap black & white security cam from Walmart
What You Need
Any Mac that can run Mac OS 8.5 and above
A camera, either composite or USB
A camera interface (composite video input or USB)
Optional:
Network interface
VHS VCR
Monitor
Once you have everything you need, it's time to start.
First you need to get a copy of EvoCam. If your not running Mac OS X, you'll need to get version 3.4. EvoCam is shareware, and I recommend you pay the $25, because it's stable and the best for our application, which runs 24/7.
Go ahead and connect you camera(s). In my case, I got a cheap home surveillance cam from Walmart for $25 and connected it using my Mac's built-in A/V ports. Next start up EvoCam and adjust it to you needs.
Once you get all the bugs out, you can set motion detection spots on the image. This is for automatic recording when motion is detected.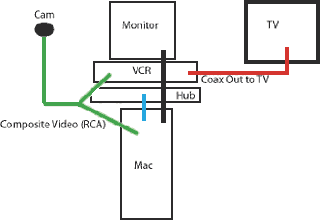 I also added the VCR to both record and transmit the image to a closed-circuit television. How? I just put a splitter on the composite video connection (RCA) coming in from the camera and fed it to the VCR - and then connected a TV using the coax video out from the VCR.
You can upload images to your website, run a web server, email pictures, and even record with a VCR so you will have your evidence when crooks break in. My system is in a closet to protect it. Like the old military saying, "Out of sight, out of mind"
This is a simple setup, but it's efficient. You can add more cameras, better machines, or a color monitor.
It will run a lot better with the latest version of EvoCam on Mac OS X, but I like mine low-end style.

Join us on Facebook, follow us on Twitter or Google+, or subscribe to our RSS news feed
If you find Joe's articles helpful, please consider making a donation to his tip jar.
Today's Links
Mac of the Day: Unitron Mac512, introduced 1985. Unauthorized Brazilian clone of the Mac 512K.
Recent Content
Custom Search
Follow Low End Mac on Twitter
Join Low End Mac on Facebook
Favorite Sites
MacSurfer
Cult of Mac
Shrine of Apple
MacInTouch
MyAppleMenu
InfoMac
The Mac Observer
Accelerate Your Mac
RetroMacCast
The Vintage Mac Museum
Deal Brothers
DealMac
Mac2Sell
Mac Driver Museum
JAG's House
System 6 Heaven
System 7 Today
the pickle's Low-End Mac FAQ
Affiliates
Amazon.com
The iTunes Store
PC Connection Express
Macgo Blu-ray Player
Parallels Desktop for Mac
eBay

Advertise