Safe and Secure File Backup and Off Site Storage
- 2006.03.28 - Tip Jar
This week we'll address some of the security problems when you're using a portable Mac and want to protect your documents.
As you already know, always back up (see Quick and Easy Disk Maintenance and Backup for Your Mac).
Let's say you're using someone else's computer or just want more peace of mind when using your own 'Book. That's where this article comes in, and I'll tell you what works and what I do.
Here's my scenario. In Iraq, it was always unpredictable - and it still is. Let's say you back up once a week or even every day, but then a bomb blows away your compound and your computer - you're left with nothing.
A good solution is to burn a DVD-R with all your important and mail it home (be sure to encrypt the disk with Toast), as discussed in my earlier article. An easier, more portable solution is to use online storage of your files if you have broadband Internet access.
There are lots of places online for online file storage starting with email accounts and Apple's .mac service. They're all great, but I wanted up to 1 GB of space for free and easy access from any platform.
My solution was to create a Mac disk image (.dmg). That's easy - just open Disk Utility (in the Utilities folder inside your Applications folder).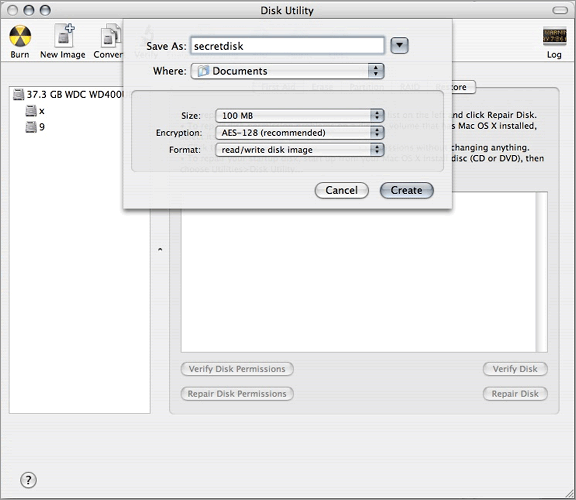 To create a disk image simply click on "new image"
Select where you want to save it in
Select the size you want the disk to be
Select AES-128 encryption
Select "read/write disk image" to make it writeable.
It will then ask you for a password. Make sure you use a nice long password. Now your private, protected disk is ready for use.
When you're done copying files to it or from it, simply eject the disk image. Then go to your favorite online storage service and upload the .dmg file. I use www.yousendit.com, which has a 1 GB upload limit. That's way more than I would ever use - and best of all, its free.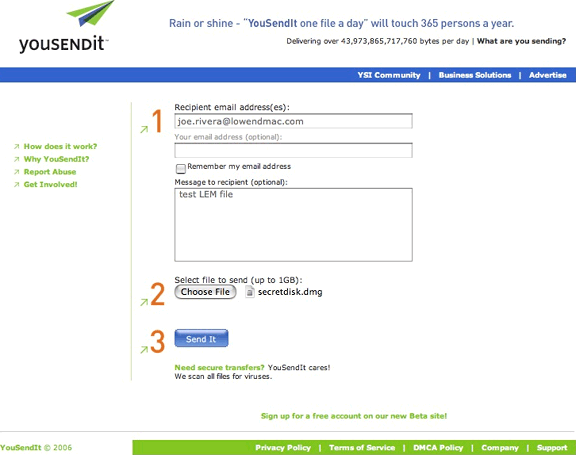 Once you've upload your disk image file and want to access it, there's a link in your email. Simply download the file, open it, enter your password, and your files are available.
You can also use Stuffit to compress files with passwords into .sit and .zip formats so they are multiplatform compatible. I use these procedures for local files, remote files, and even files on flash drives and on my iPod - just in case they get in the wrong hands, all the files are encrypted, so I'm safe just like my data.

Join us on Facebook, follow us on Twitter or Google+, or subscribe to our RSS news feed
If you find Joe's articles helpful, please consider making a donation to his tip jar.
Today's Links
Mac of the Day: Lisa, introduced 1983.01.19. The ancestor of the Macintosh had a mouse, a graphical interface, and a $10,000 price tag.
Recent Content
Custom Search
Follow Low End Mac on Twitter
Join Low End Mac on Facebook
Favorite Sites
MacSurfer
Cult of Mac
Shrine of Apple
MacInTouch
MyAppleMenu
InfoMac
The Mac Observer
Accelerate Your Mac
RetroMacCast
The Vintage Mac Museum
Deal Brothers
DealMac
Mac2Sell
Mac Driver Museum
JAG's House
System 6 Heaven
System 7 Today
the pickle's Low-End Mac FAQ
Affiliates
Amazon.com
The iTunes Store
PC Connection Express
Macgo Blu-ray Player
Parallels Desktop for Mac
eBay

Advertise