The Macintosh II Video Card (a.k.a. Toby) is a 12″ NuBus card compatible with 680×0-based NuBus Macs running up to Mac OS 7.6.1. It was introduced at the same time as the Mac II. It is not compatible with the Centris/Quadra 660AV and only partially compatible with the Quadra 840AV.
Details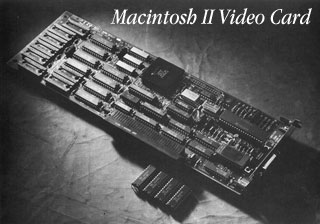 The Macintosh II Video Card is unaccelerated. With an optional RAM upgrade that requires eight 120ns DIP chips, it supports 640 x 480 in 8-bit color. Without the RAM upgrade, it supports 640 x 480 in 4-bit color. It will not drive the Apple 12″ RGB Display or 12″ Monochrome Display, which only operate at 512 x 384 resolution. It only supports 640 x 480 output.
Notes
This Mac video card can support a special resolution of 704 x 512, and then only on certain Apple 640 x 480 displays and with the shareware MaxAppleZoom control panel – although the control panel has apparently expired. (It was last updated in June 1993.) I have seen one recommendation for using 672-pixel mode with the 12″ Macintosh Monochrome Display.
The Macintosh II Video Card has been tested and works in a Power Mac 7100; this should apply to the 8100 and Workgroup Server 9150 as well.
Further Reading
Keywords: #maciivideocard #macintoshiivideocard