The LaserWriter IINT the core of Apple's LaserWriter II family and a worthy successor to the LaserWriter Plus. The LaserWriter II family of printers all used the same 8 page-per-minute 300 dot-per-inch Canon LBP-SX engine, but each model had a different logic board.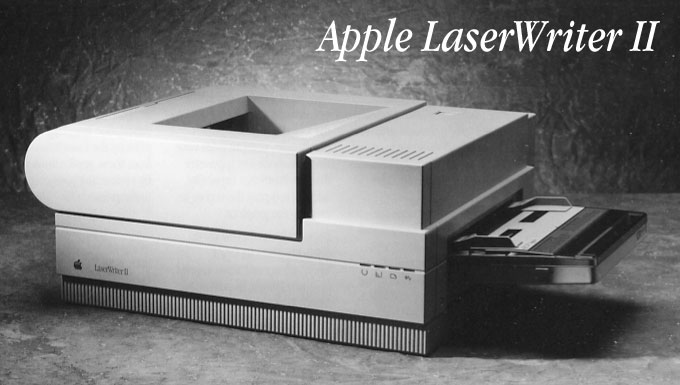 The LaserWriter IINT was the middle of the line and the least expensive Postscript printer Apple had released to date. To keep costs down, it continued to use a 12 MHz 68000 CPU instead of the more powerful, more costly 16 MHz chip.
The LaserWriter IINT has the same font set as the LaserWriter Plus.
The LaserWriter II series was over 20 lb. lighter than the LaserWriter and LaserWriter Plus.
Details
Introduced 1988.01.01 at $3,999; discontinued 1991.10.01
CPU: 11.5 MHz 68000
ROM: 1 MB
RAM: 2 MB
Postscript Version: 1
Built-in fonts: ITC Avant Garde, Courier, Helvetica, Helvetica Narrow, New Century Schoolbook, Palatino, and Times Roman, which came in regular, oblique/italic, bold, and bold oblique/italic, ITC Bookman Light and Demi, in regular and italic, plus Symbol, ITC Zapf Chancery, and ITC Zapf Dingbats
Resolution: 300 dpi
Speed: 8 pages per minute
Engine: Canon LBP-SX
Interfaces: LocalTalk, RS-232
Languages: PostScript, Diablo 630
Accessory Port: ADB
SCSI Drive Support: no
Size (H/W/D): 8.75″ x 20.2″ x 18.7″
Weight: 45 lb.
Power Supply: 900W
Upgrade Path: IINTX, IIF, IIG board
Online Resources
Keywords: #laserwriter #laserwriterii #laserwriteriint
Short link: http://goo.gl/WDRau7