The Personal LaserWriter SC was a lower speed, lower cost replacement for the LaserWriter IISC. Like the IISC, it connects to a single Mac using SCSI. It is not networkable and does not have Postscript. It is a QuickDraw printer that depends on the host computer to render the page before sending it to the printer.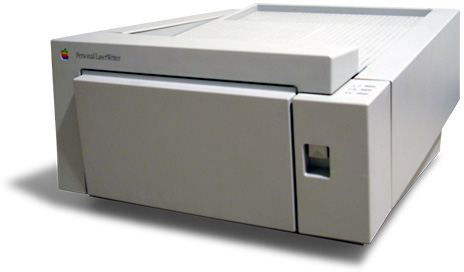 As with the IISC, the SC gets by with just 1 MB of memory and a 68000 CPU – it has even less power than the slowest Macintosh. It also prints slowly, with a 4 page per minute maximum throughput.
The 1990 through 1992 Personal LaserWriter models are built around the Canon LBP-LX print engine. Additional models were introduced in 1991 and 1992.
Details
Introduced 1990.01 at $2,799; discontinued 1993.09.01
CPU: 7.2755 MHz 68000
ROM: 16 KB
RAM: 1 MB
Resolution: 300 dpi
Speed: 8 pages per minute
Engine: Canon LBP-LX
Interfaces: SCSI
Languages: QuickDraw
Accessory Port: none
SCSI Drive Support: no
Size (H/W/D): 8.0″ x 15.0″ x 18.3″
Weight: 32 lb.
Power Supply: 600W
Upgrade Path: none
Online Resources
Keywords: #laserwriter #personallaserwriter #personallaserwritersc #quickdraw printer
Short link: http://goo.gl/IU9E10