Introduced in 1991, the LaserWriter IIf was a big step forward from the LaserWriter IINTX. It had a much more powerful CPU, a 20 MHz 68030 instead of a 16 MHz 68000, and its 2 MB of memory could be expanded as high as 32 MB. It was one of the first printers with Postscript Level 2, a more efficient, more powerful version of the page description language, and had 2 MB of ROM, and it introduced FinePrint to provide better quality output by reducing jaggies.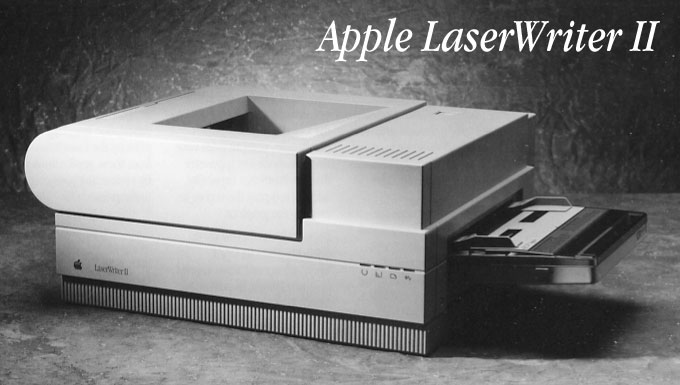 Additionally, by upgrading the memory of the LaserWriter IIf to 5 MB or more, it automatically supports Apple's PhotoGrade, a standard feature on the IIg. PhotoGrade works by producing different sized dots to produce more than 65 shades of gray.
Between FinePrint and PhotoGrade, the IIf and IIg brought a new level of output to the LaserWriter line.
The LaserWriter IIf and IIg used the same engine as the earlier LaserWriter II family of printers, and the older models could be upgraded be swapping in a IIf or IIg logic board. The LaserWriter IIf retained the SCSI port from the IINTX, allowing it to use an external hard drive to store fonts so they wouldn't have to be sent over a LocalTalk network.
The LaserWriter IIf and IIg have the same font set as the LaserWriter Plus and later.
Details
Introduced 1991.10 at $3,599; discontinued 1993.05
CPU: 20 MHz 68030
ROM: 2 MB
RAM: 2 MB, expandable to 32 MB using 80ns 30-pin RAM
Postscript Version: 2
Built-in fonts: ITC Avant Garde, Courier, Helvetica, Helvetica Narrow, New Century Schoolbook, Palatino, and Times Roman, which came in regular, oblique/italic, bold, and bold oblique/italic, ITC Bookman Light and Demi, in regular and italic, plus Symbol, ITC Zapf Chancery, and ITC Zapf Dingbats
Resolution: 300 dpi
Speed: 8 pages per minute
Engine: Canon LBP-SX
Interfaces: LocalTalk, RS-232
Languages: PostScript, HP LaserJet, Diablo 630
Accessory Port: ADB
SCSI Drive Support: yes
Size (H/W/D): 8.75″ x 20.2″ x 18.7″
Weight: 45 lb.
Power Supply: 900W
Upgrade Path: IIg board
Online Resources
Keywords: #laserwriter #laserwriterii #laserwriteriif
Short link: http://goo.gl/UNKFLR