The Personal LaserWriter LS was a low cost 4-page-per-minute QuickDraw printer similar to the Personal LaserWriter SC, but it connected to Apple's serial port instead of usings SCSI and retailed for $700 less. It is not networkable and does not have Postscript. As a QuickDraw printer, it depends on the host computer to render the page before sending it to the printer.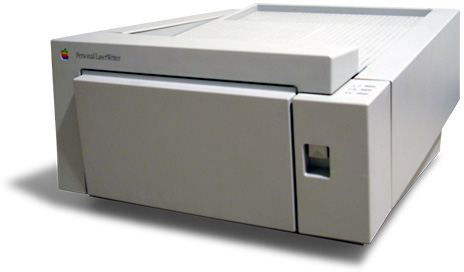 The Personal LaserWriter LS uses data compression and has less memory than any other Apple laser printer – just 512 KB (expandable to 1 MB). It is also the only LaserWriter not to include a CPU; everything is handled by the host computer.
Apple later produced a cost-reduced version known internally as the Personal LaserWriter LS/L that used different components and had a different part number but was marketed under the same name – Personal LaserWriter LS.
The 1990 through 1992 Personal LaserWriter models are built around the Canon LBP-LX print engine.
Details
Introduced 1991.06 at $1,299; discontinued 1993.05
CPU: none
ROM: none
RAM: 0.5 MB, expandable to 1 MB using 80ns 30-pin RAM
Resolution: 300 dpi
Speed: 8 pages per minute
Engine: Canon LBP-LX
Interfaces: RS-422/232
Languages: QuickDraw
Accessory Port: none
SCSI Drive Support: no
Size (H/W/D): 8.0″ x 15.0″ x 18.3″
Weight: 32 lb.
Power Supply: 600W
Upgrade Path: none
Further Reading
Two New Apple Printers, MacUser, May 1991, p. 91
Keywords: #laserwriter #personallaserwriter #personallaserwriterls #quickdrawprinter
Short link: http://goo.gl/ALpSWI