The LaserWriter Pro 810 was a beast – 19.5″ tall, 81 lb., and with three paper trays, this one was designed for heavy use. It prints pages "sideways" compared to most laser printers, which also allows it to print on 11″ x 17″ paper.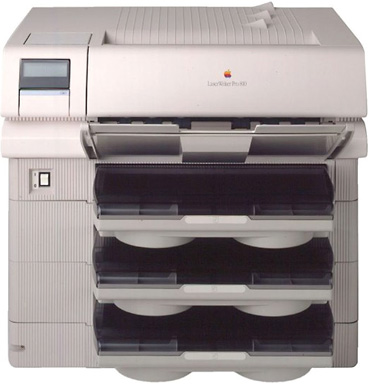 The LaserWriter Pro 810 was built around the blazingly fast 20 page-per-minute Fuji Xerox XP 20 print engine that can print at 800 dots-per-inch and supports tabloid sized pages.
The 810 was the only LaserWriter to use the Weitek 8200 RISC processor, which HP also used in some of its printers.
One of the nicest options under Mac OS 8.x was the ability to send a job to the printer and have it faxed from the printer, making this not only a great workgroup printer, but a great way to fax projects without ever needing to print a hard copy and run it through a fax machine. (Unfortunately, support for sending faxes disappeared with Mac OS 9.)
Details
introduced 1993.10.01; discontinued 1994.11.01
CPU: 7.25 MHz Weitek 8200
ROM: 3 MB
RAM: 8 MB, expandable to 32 MB
resolution: 800 dpi
speed: 20 pages per minute
engine: Fuji Xerox XP 20
interfaces: Ethernet, LocalTalk, RS-232
languages: PostScript 2, HP LaserJet IIP (PCL4+)
accessory port: ADB
SCSI drive support: yes
size (H/W/D): 19.5″ x 20.5″ x 21.5″
weight: 81 lb.
power supply: 560W
Online Resources
Keywords: #laserwriter #laserwriterpro #laserwriterpro810
Short link: https://goo.gl/6jHYKA