The LaserWriter Select 310 was something of an anomaly for Apple, a PostScript printer without network support. The 310 is part of Apple's low end 5 page-per-minute LaserWriter Select family that replaced the earlier Personal LaserWriter series.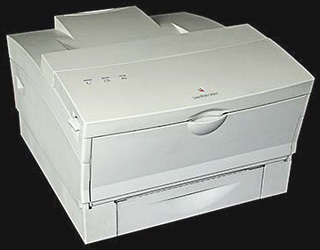 The LaserWriter Select 310 has a standard Mac RS-422 DIN-8 serial port and also has a parallel port for use with PCs. It is built around a Fuji Xerox print engine, unlike earlier LaserWriter models, which all used Canon print engines.
You need special drivers for the LaserWriter Select 310; it does not work with the standard LaserWriter drivers, which are configured for network access.
Details
introduced 1993.02.01; discontinued 1994.01.01
CPU: 16 MHz AMD29200
ROM: 2 MB
RAM: 1.5 MB, expandable to 5.5 MB using 100ns 72-pin RAM
resolution: 300 dpi
speed: 5 pages per minute
engine: Fuji Xerox P1
interfaces: RS-422, Parallel
languages: PostScript Level 1
accessory port: none
SCSI drive support: no
size (H/W/D): 8.0″ x 15.0″ x 18.3″
weight: 26 lb.
power supply: 450W
Online Resources
Keywords: #laserwriter #laserwriterselect #laserwriterselect310
Short link: https://goo.gl/SZz298