Earlier in 1993, Apple had introduced its low-end LaserWriter Select line, which seemed like a replacement for the Personal LaserWriter family – but here was the Personal LaserWriter 300, another low cost 4-page-per-minute serial-only QuickDraw printer similar to the Personal LaserWriter LS. Color me confused by two competing product lines!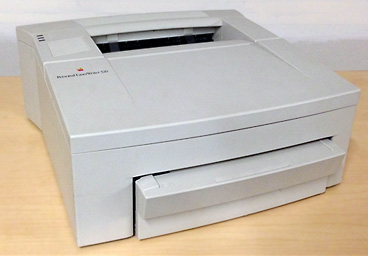 Like the LS, the Personal LaserWriter 300 uses data compression and has only 512 KB of memory, but it is not expandable, unlike the LS. Like the Personal LaserWriter LC, it does not include a CPU; everything is handled by the host computer.
The second generation of Personal LaserWriters has a smaller footprint than the first generation models, is not as tall, and weighs less, but it prints at the same 4 page-per-minute with 300 dot-per-inch resolution.
Details
Introduced 1993.06; discontinued
CPU: none
ROM: none
RAM: 0.5 MB, not expandable
Resolution: 300 dpi
Speed: 4 pages per minute
Engine: Canon LBP-PX
Interfaces: RS-422 serial
Languages: QuickDraw
Accessory Port: none
SCSI Drive Support: no
Size (H/W/D): 6.3″ x 15.2″ x 14.9″
Weight: 15.4 lb.
Power Supply: 600W
Upgrade Path: none
Further Reading
Keywords: #laserwriter #personallaserwriter #personallaserwriter300 #quickdrawprinter
Short link: https://goo.gl/NREi7Y