Using the same case as the Power Mac 8100, the 8500 (a.k.a. 8515) was the first Mac minitower with a replaceable CPU daughter card. Unlike the first generation of Power Macs, the 8500 has PCI slots and uses the PowerPC 604 processor, a significantly improved, second-generation PPC design.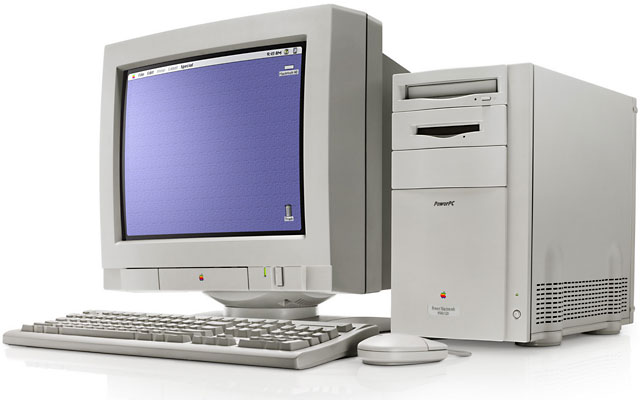 The 8500 also has audio, S-video, and composite video ports on the rear. Thanks to its daughter card CPU design, it can be upgraded with a faster PowerPC 604, 604e, G3, or even G4 processor.
This model was also available as the Workgroup Server 8550.
Details
8500/120 introduced 1995.08.08 at $4,000; discontinued
8515/120 introduced 1996.01.11; discontinued
8500/150 introduced 1996.04.22; discontinued
8500/180 introduced 1996.08.05; discontinued
requires System 7.5.2 through 9.1; Mac OS 9.2.x requires a G3 or G4 upgrade
CPU: 120 MHz or faster PPC 604, 180 MHz 604e
Bus: 40-50 MHz, controlled by CPU card
Performance: 5.3/5.7/6.1 (120/132/150 MHz, relative to Centris 650); 57,200 (120 MHz), 68,650 (150 MHz), 87,464 (180 MHz) Whetstones
ROM: 4 MB
RAM: 16 MB, expandable to 512 MB using 70ns 168-pin DIMMs (8 sockets), Apple notes "128 MB DIMMs can be used, but have not been tested" – this would bring total RAM to 1 GB.
VRAM: 2 MB, expandable to 4 MB
Video: supports resolutions to 1280 x 1024
L2 cache: 256 KB standard, can be expanded to 1 MB
SCSI: internal fast SCSI bus (to 10 MBps), external SCSI bus (to 5 Mbps)
CD-ROM: 4x
PCI slots: 3
Microphone: standard 3.5mm minijack, compatible with line-level input including Apple's PlainTalk microphone
ADB: 1 port for keyboard and mouse
serial: 2 DIN-8 GeoPorts on back of computer
SCSI: DB-25 connector on back of computer
Ethernet: AAUI and 10Base-T connectors on back of computer
upgrade path: CPU daughter card
Power supply: 225W
Height: 14.0 in
Width: 7.7 in
Depth: 15.75 in
Weight: 25.0 lb
PRAM battery: 3.6V half-AA
Gestalt ID: 69
Accelerators & Upgrades
Online Resources
Cautions
Apple discontinued support and parts orders for this model on 2001.10.15 (2001.10.22 in Canada), except in California. You may be able to find dealers with parts inventory either locally or on our parts and service list.
Apple Computer will consider this computer vintage as of 2001.07.16 in the United States and 2001.07.23 in Canada. As of that date, service parts will only be available for units purchased in California and being serviced within California.
G3 upgrade cards unstable?, MacWeek
Keywords: #powermac8500 #powermac8515 #workgrouserver8550
Short link: http://goo.gl/u5fXkG
searchwords: powermac8500, powermac8515