The ATI Nexus 128 is a PCI video card that works in a standard 33 MHz PCI or Apple's accelerated 66 MHz PCI slot found in the Blue & White Power Mac G3 and the Yikes! Power Mac G4.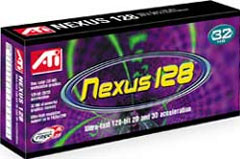 Many articles mention poor 16-bit image quality, and 32-bit operation is nearly as fast. Multimedia components are compatible with Mac OS 8.x. Supports QuickTime 3.0 or higher, QuickDraw 3D 1.5.4 or higher.
ATI shipped several Mac compatible cards based on the Rage 128 chipset. These include the Orion, Nexus, and VR cards. 3D acceleration is not supported when set to 256 colors.
Details
GPU: Rage 128 GL
GPU speed: 100 MHz
PCI bus speed/width: 33/66 MHz, 32 bits
Video memory: 32 MB
Memory speed: 166 MHz
Memory bus: 128 bits
Resolutions: 512 x 384, 640 x 480, 640 x 870, 800 x 600, 832 x 624, 1024 x 768, 1152 x 870, 1280 x 960, 1280 x 1024, 1600 x 1024, 1600 x 1200, 1792 x 1344, 1856 x 1392, 1920 x 1080, 1920 x 1200, 1920 x 1440
Ports: VGA
Dual monitor support: no
Cooling fan: sometimes, but usually a heat sink
Minimum OS: Mac OS 8.0
Online Resources
Benchmarks
Keywords: #atinexus128 #nexus128 #nexus128pci
Short link: http://goo.gl/FmnRGe
searchword: atinexus128pci