2000 – As you spend time repairing machines, mostly by swapping parts, inevitably you wind up with a hulk with nothing in it that works – it's just a place to hold parts. Bad motherboard. Gummed up floppy. CD won't eject. Questionable power supply. Things like that.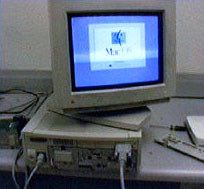 One day a person donated a gutted Quadra 630 that had been completely disassembled. I don't know the story, but this machine not only had its cover removed, but the motherboard was missing any installed RAM, and the side and front panels and power supply were lying loose as well. It looked like someone had tried to fix it and had just gotten tired and given up.
The owner said she thought the motherboard was bad, but she wasn't sure. I put the thing back together (sans the missing parts).
Well, I didn't have any Quadra motherboards to spare, so I stuck the box in a storeroom and mostly forgot about it, until I read on Low End Mac's Performa and Power Mac 5200, 5300, 6200, 6300 Issues page the following passage:
These machines were unique in that they represented a new minimalist form of hardware engineering – one user studied the design and called it a Quadra 630 with a PowerPC upgrade built in. These machines were built around the Quadra 630 form factor.
Well, it occurred to me that since I had several dead 5200s sitting around – victims of a power surge – I might try sticking a 5200 motherboard in the 630's case and see if it would work.
Here are the two motherboards, side by side: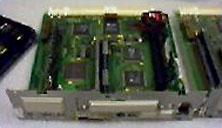 As you can see, the internal socket that seats the motherboard and provides the nice drawer-style access is identical. So, in a nutshell, I inserted the motherboard – and it worked!
Even though the 5200 is justifiably a Road Apple, it is a Power Mac – and I need Power Macs to run Vernier software's Logger Pro software for connecting sensor equipment to my Macs. So I stripped the good parts of the 630 and the 5200, added a spare monitor (somehow I always seem to have an extra monitor around), and voilá! I have another machine as good as half of our teachers are using.
In my humble opinion, what Apple needs to do is to offer 5200 owners a discount on a new iMac – and then let them keep the 5200s. The 5200s are slow, but they do run AppleWorks 5 adequately. That would generate huge sales (if you'd ever used a 5200 running Mac OS 8.6, you'd know, believe me) and spread goodwill at a time when Apple needs to boost its education efforts. Somebody tell Steve, please. These 5200s are killing our evangelism efforts. We're getting ready to buy a bunch of iMacs and Dells – a deal like this would shift the proportion, I'd be willing to bet. A lot.
Here are the rest of the photos showing the process.
| | |
| --- | --- |
| Removing the 630's motherboard requires pulling on this little handle. | Push hard to seat the new motherboard. |
| The 5200 has a slightly different slot arrangement that will prevent the 630's cover being replaced unless you remove this panel. Don't forget to fold up the handle. | |
That's it! Move over the RAM, and you've got yourself a new machine. You need to put a label on the front to say it's a 5200 and not a Quadra, or some tech admin will come along and toss your machine because it's not up to standard. Actually, this is the third "conversion" I've done. I use one as a student workstation, and another teacher has one, and this one hasn't been assigned a home yet.
Now, if I can just find a way to fire up the leftover 630 motherboards.
Go to One to Many: Building a Computer Lab from Scratch.
Keywords: #quadra630 #performa5200
Short link: http://goo.gl/n5clH3