2000 – Sometimes bigger is better. Taking a page from the Dell Inspiron 7500 (good luck finding it on their horrendous site), which weighs in at a hefty 9.4 pounds and has a simply huge 15″ 1400 x 1050 display, Steve Jobs unveiled the PowerBook Cinema at the Worldwide Developers Conference last night.

Never willing to be outdone by anyone (not counting Window 2000's 63,000 bugs, of course), Apple's newest, most expensive PowerBook ever (we think) will put the Inspiron and any other laptop to shame.
Based on the 22″ 1600 x 1024 screen in the Apple Cinema Display, the PowerBook Cinema measures 22.7″ wide, 14.75″ deep, and 2.1″ thick. It's the first laptop in years to sport a full-sized keyboard complete with numeric keypad. It does weigh less than the 16 pound Macintosh Portable, but not by much. Although this was a preproduction sample, the final machine will probably weigh 14-15 pounds.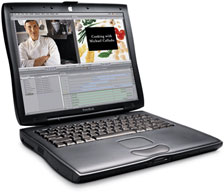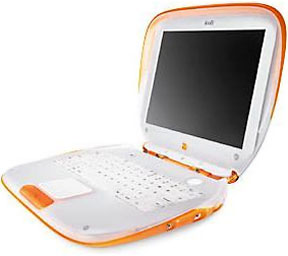 The design is a cross between the Pismo and the iBook. The clamshell case is topped in a frosted graphite plastic, except for the glowing white Apple logo. Like the iBook, it has a large carrying handle on the back.
The lower half of the computer is the same color black as the PowerBook, which means the Lombard and Pismo batteries expansion bay drives match it perfectly. The PowerBook Cinema has two large bays, making it possible to have two DVD drives (if you could come up with a reason for doing so).
It may also be the first portable computer that supports three batteries. The primary battery is inside the computer, somewhat like that on the iBook. By itself, this battery can power the Cinema for up to three hours. Each expansion bay will also accept a battery, each of which adds three more hours of unplugged power.
The PowerBook Cinema will be a first for Apple, a limited production build to order only computer starting at $4,995.
Steve Jobs was heard joking with some Apple dealers that this was the first Mac inspired by the Mac web, refering to it as the "Dan Knight" PowerBook. "He's said it in print often enough: Give me a big enough screen, and I'll replace my desktop. Well, we're holding him to that. Dan Knight had better have the money to follow through."
Dan Knight was unavailable for comment, but many WWDC attendees were seen drooling over the new PowerBook.
 – Anne Onymus