2001 – Apple (read: Steve Jobs) killed off the Newton on February 27, 1998. At least one company attempted to buy the Newton OS from Apple, only to be told that it was unavailable since Apple had future plans for it.

What better product for Apple to release on Tuesday, October 23, 2001, than an updated Newton – a very updated Newton.
Since this is The Rumor Mill and all our rumors are completely groundless, the only information we have to act on is Apple's statements. This will not be a Mac; it will have something to do with music and the digital lifestyle. But that never stopped me from making a wild guess before. ;-)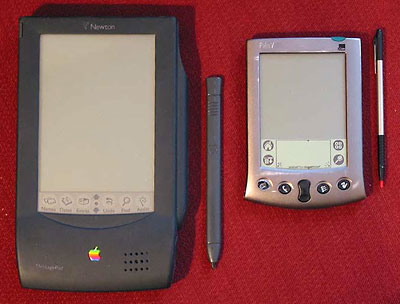 Newton was a great PDA, albeit a large one, before the world realized they needed PDAs. Along came Palm with a much smaller PDA, a Mac-inspired OS, and excellent timing – and Newton was soon on the ropes.
Today Palm is ailing. It is planning to split itself into separate hardware and software divisions – exactly the move that would have killed Apple when everyone proposed it in 1997.*
In a huge effort to steal Windows XP's thunder (thunder is the sound of ten million Windows XP computers crashing), Apple will be unveiling a hush-hush, top secret mystery product on Tuesday. I think it's a Newton, and here's how I think it will work.
First, it will be bigger than a Palm, but perhaps somewhat smaller than the old largish Newton. It will have the Newton's handwriting recognition, which puts Palm's to shame. It will have a color display. It will have a speaker, a microphone, and a headphone jack. It will run on AA batteries and have an expansion slot or two. It will work with eBooks. It will have IrDA, USB, and FireWire for networking, along with 10/100 ethernet. It will be able to function as an accessible hard drive on any Mac or PC with USB or FireWire.
And let's not forget AirPort!
The Newton X will run Mac OS X 10.1, but it won't quite have Aqua. The interface will be Aqua-inspired, but modified for the handheld. The Newton X will have a fast G3 processor to run the OS and applications plus a separate processor (ARM? Dragonball?) to handle all I/O functions.
The new Newton will have buttons like Palm and Windows PC devices – plus a cursor controller like that on the Game Boy. In fact, because the Newton X will work in both portrait and landscape modes, it may have two separate sets of control buttons – that's thinking different!
The Newton 2001 will be about the size of a mass market paperback, display 24-bit color, support Mac OS applications, and include a Palm OS emulator. No, not quite – it will include the full Palm OS, because part of the announcement will be that Apple now owns the Palm OS.
The digital hub Newton will have slots: PC Card, SmartMedia, CompactFlash, and Sony's MemoryStick.
Newton 2001 will have some very clever accessories, such as a keyboard that connects along the long dimension, almost turning it into an iBook. There will be room in there for a 2.5″ hard drive, which will provide an amazing amount of storage capacity for a PDA.
There will also be a media module that connects below the keyboard or behind the Newton itself. One will play CDs, another will do CD-R and CD-RW, a third will let you watch DVDs, and a fourth will be the same ComboDrive found in today's top-end iBook.
Other differences from Macs are that the Newton will have a good deal of the OS in ROM and will use some type of static memory to keep battery consumption down. This will also allow virtually instant wake up from sleep mode.
It'll be a PDA that runs Mac and Palm applications, interfaces with Macs and Windows PCs (and probably Linux, too), and demonstrates who the real innovator is in the personal computing industry. (Sorry, Microsoft. Sorry, Dell.)
And, yes, it will play MP3s.
Or Steve Jobs could have something else up his sleeve, leaving the Newton in the landfill of discarded technologies. Time will tell.
– Anne Onymus
The Long and Winding Road for Palm
Update: Palm was founded in 1992, purchased by US Robotics in 1995, and then 3Com bought US Robotics in 1996. The first Palm Pilot shipped in March 1997 – the first Newton had shipped in 1993.
The inventors of the original Palm Pilot left Palm to found Handspring in June 1998, barely a year after the Palm Pilot had gone on sale. Handspring licensed the Palm OS and sold its first models in September 1999.
A multitude of companies licensed the Palm OS for use in PDAs and other devices, including Acer, AlphaSmart, Garmin, IBM, Lenovo, Samsung, and Sony.
3Com set Palm free as an independent company in January 2000 and followed through on separating hardware and software divisions in October 2002: PalmSource would license the Palm OS, and Palm would market PDAs using the OS licensed from PalmSource.
Palm, the hardware company, and Handspring merged in October 2003 under the name palmOne, Inc. In May 2005, palmOne purchased the Palm trademark from PalmSource and became Palm, Inc. once more.
In late 2005, ACCESS purchased PalmSource, which it licensed to Palm in December 2006. (Interesting tidbit for Mac users: ACCESS also owns BeOS, which Palm had acquired in 2001.) Two years later, Palm announced that it would no longer develop PDAs.
From there it was all downhill for Palm. Its webOS and Palm Pre launched in June 2009 and bombed, in part because Sprint – a distant third in the US mobile market – was the only carrier to sell it.
Palm was acquired by Hewlett Packard in 2010, and HP launched new products in February 2011 using the HP brand, not the Palm name. By August 2011, HP threw in the towel on webOS. HP sold webOS to LG Electronics in February 2013.
Short link: http://goo.gl/jW69Em