Apple phased out black-and-white full-sized iPods in June 2005 with the introduction of the iPod with Color Display, which replaced both the 4G iPod and the iPod photo.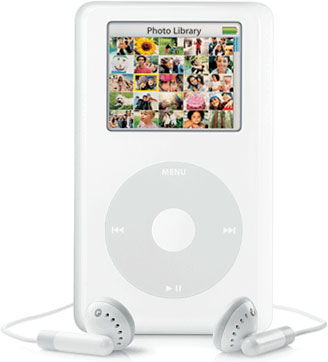 Specs match those of the iPod photo, including up to 15 hours of music. It also has video output via S-video to display images on TV.
In most other respects, its very similar to the black-and-white 4G iPod.
Unlike competing devices that used MP3 file compression, the iPod with iTunes was designed to use the superior AAC (Advanced Audio Coding) audio format in addition to MP3. AAC generally provides superior sound quality over MP3 at the same bit rate, especially at 96 kbps and lower sampling rates, as well as more efficient encoding, which means smaller files.
Hardware Overview
Models
Announced: 2005.06.28 at US$299 (20 GB) and $399 (60 GB)
Included accessories: earbuds, AC adapter, USB 2.0 30-pin dock cables, iTunes CD
Code name: P98
Model number: A1099
Product numbers:

MA079, 30 GB
M9830, 60 GB
Technology
CPUs: 2 ARM 7TDMI-derived CPUs running at variable speeds up to 80 MHz
Audio chip: Audio Codecs developed by Wolfson Microelectronics
Display: 2″ color 220 x 176 pixel LED-backlit LCD.
Battery: 600 mAh lithium polymer
Charge time: 5 hours max. (3 hour fast charge to 80% capacity)
Play time: 15 hours
Compatibility
Original OS: iPod OS 1.2
Maximum OS: iPod OS 1.2.1
iTunes Versions: iTunes 4.7 and later.
Mac OS Required: OS X 10.2.8 or later for FireWire, 10.3.4 required for USB 2.0 support.
Windows Versions Supported: 2000 SP4, XP Home or Professional SP 2 or later
Dimensions and Weight
Dimensions: 4.1″ x 2.4″ x 0.63″ (20 GB) or 0.75″ (60 GB)
Weight: 5.9 oz. (30 GB) or 6.4 oz. (60 GB)
Further Reading
Keywords: #ipodphoto
Short link: http://goo.gl/xObhjD
searchwords: ipodphoto